If you're a fan of the Marvel universe, then this 7 Best Marvel Board Games 2023 will help you learn which board games are worth your money.
Introduction to 7 Best Marvel Board Games 2023
Superheroes are a form of a modern fairytale. It's hard to avoid them if you're at least vaguely following popular culture. It's no surprise it's a pretty hot theme in board gaming as well. Almost to a degree, where the publishers are flooding us with new releases and expansions all the time. A proper Best Of article is in order then.
I'll be the first to admit I'm not the biggest fan of superheroes, the Marvel universe, their movies, and comics. I much rather prefer classic fantasy or sci-fi. But I will try to turn that into a positive. I'll dive into the games fresh, open-minded, and objectively.
If you click on an affiliate link, it will take you to the Amazon store. If you then buy something, I will earn a commission – I am a member of the Amazon Associates program, as well as others.
---
7. Smash Up: Marvel
Published: 2021
Designers: Sean Fletcher, Paul Peterson
Playing time: 30-60 minutes
Players: 2-4
Complexity: light-medium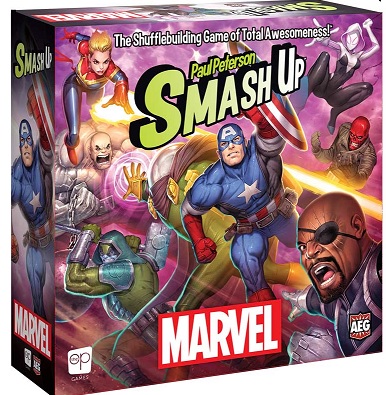 All the factions imaginable
Smash Up: Marvel is an iteration of a light combat game, which features numerous different factions (dinosaurs, aliens, pirates, robots, cowboys, ninjas, and many many more) fighting over locations to earn victory points. 2012 Smash Up didn't take itself too seriously and was a mish-mash of all-stuff-geek, with many expansions following it.
The Marvel variant dresses the original concept into shiny new clothes. Factions are now Hydra, The Avengers, S.H.I.E.L.D, the Spiderverse, and others – a total of 8 factions. Captain America, Red Skull, Spiderman, and a whole lot of other famous names are included.
How to play
Every player chooses two factions to play with. Each faction comes with a 20-card deck, consisting of characters and abilities. You shuffle (smash) the deck together to create your 40-card deck.
Players fight over bases (four locations in a three-player game), assigning character cards to them to increase their power. When a power threshold for a base is reached, victory points are given out based on who contributed the most.
Ability cards can be used to break the rules or add all sorts of thematic bonuses and powers. You can create all sorts of interesting and ridiculous combos. The game ends when the first player reaches 15 points – which can happen quite fast.
Editions and Expansions
While Smash Up: Marvel can be played as a standalone title it can also be combined with any of the already existing Smash Up decks. That's the whole point: smashing up two completely different worlds to create something novel and fresh.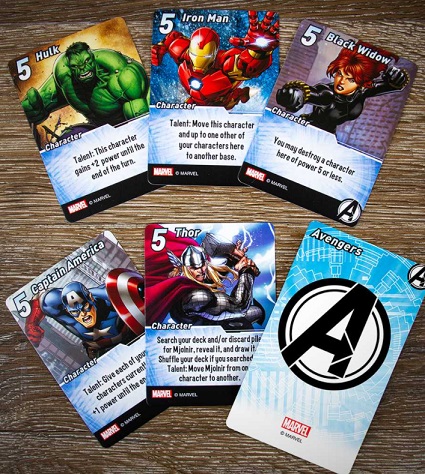 Smash Up: Marvel
Simple rules and quick gameplay.
Smashing the decks together offers a lot of creativity and results in hilariously crazy stuff.
Marvel factions are diverse, well-designed addition.
Smash Up is a great game for the whole geek-ish family. Easy to play, it has a lot of diversity and variability, and it's fun. Marvel edition is not just an afterthought – the decks are well-built and offer fulfilling gameplay.
---
6. Splendor: Marvel
Published: 2020
Designer: Marc André
Playing time: 30 minutes
Players: 2-4
Complexity: light-medium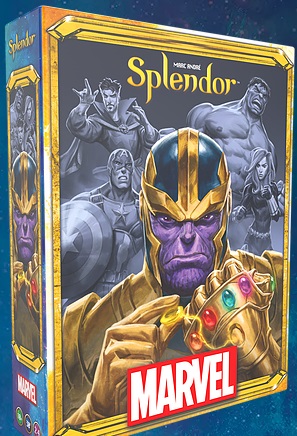 Repaint my game
Splendor is one of the evergreen gateway board games. If you want to introduce someone to engine/tableau-building, Splendor is the way to go. But its theme was never a strong point. It feels bland and you don't really notice it during the game.
Splendor: Marvel takes the original recipe and substitutes the theme. You're no longer collecting gems – they are now infinity stones. Replacing the buildings are the numerous Marvel universe heroes, villains, and locations.
How to play
The goal in Splendor is to be the first to collect 16 victory points. You do that by buying cards of value and adding locations (formerly nobles).
Cards are spread out in a 4×3 grid (three ranks of cards with 4 cards each). When a character card is taken (bought or reserved), another one is drawn from one of the three stacks.
Buying cards is a combination of set collecting (their price in stones is printed on the cards) and engine building.
On your turn, you can gather stones or spend them to buy development cards. The main trick is that each character card also has a permanent bonus resource that can stack (imagine it as a discount when buying future cards). That's the engine-building part.
If you collect enough bonuses, you will also receive a location card for extra points. And that's pretty much all there is to know about the game.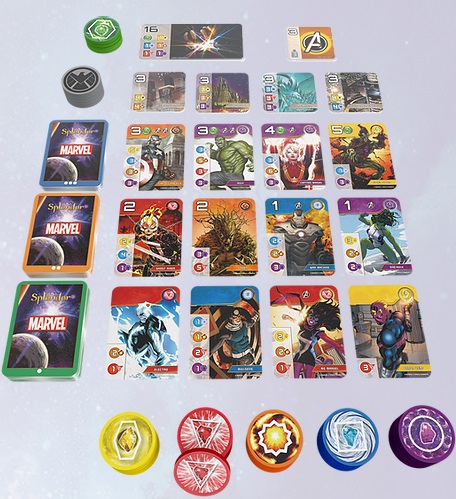 Splendor: Marvel
Simple, introductory engine-building game.
The re-painted Marvel theme makes it more appealing than the original, but it's still pasted on.
Excellent components add to the appeal.
If you're looking to get into engine-building board games, Splendor is one of your best starting points. There's almost no difference gameplay-wise between Marvel and the original. I'd choose the most appealing, and that is Splendor: Marvel.
---
5. Thanos Rising: Avengers Infinity War
Published: 2018
Designer: Andrew Wolf
Playing time: 60-90 minutes
Players: 1-4
Complexity: light-medium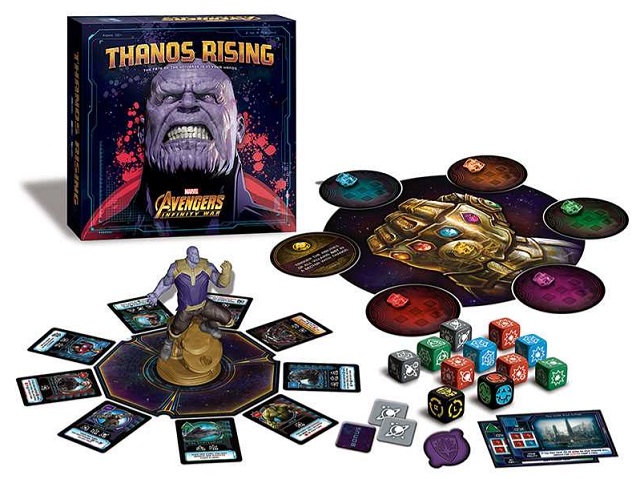 I've got canyons on my chin and a magic glove!
As the title suggests, this game is based on the Avengers: Infinity War movie. The gameplay resembles that: it's a cooperative affair. Your team of heroes needs to defeat a certain number of villains before Thanos can get all six Infinity Stones to fuel his Infinity Gauntlet.
How to play
Each player starts with his Team Base card, which defines his starting heroes, starting dice pool, and abilities. There are several available and playing each game with a different Base card adds the necessary variability to the game.
At the start of each turn, you will decide which of the three sectors your team of heroes will travel to. This is a crucial decision in Thanos Rising – you must base it on your hand of cards, your heroes, and enemies in the sector.
Now the dice come into play. First, Thanos rolls his Infinity Stone and Thanos dice. These add to the Infinity Stones counters, move Thanos and his villains, or damage heroes.
Then it's your turn to roll. In a series of rolls, re-rolls, and dice placements, you try to match icons shown on the hero (recruiting more heroes to your base) and villain cards (defeating them).
The goal of the game is to defeat several villains (based on difficulty) before Thanos completes his six Infinity Stones or you lose too many heroes.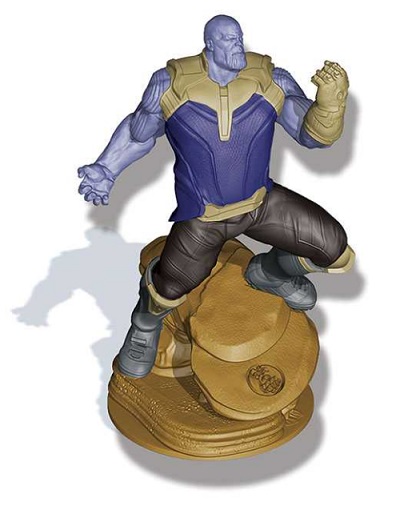 Thanos Rising: Avengers Infinity War
Cool table appearance, topped with a large statue of Thanos.
Family-friendly gameplay with a strong dice element.
Building your team of heroes is both challenging and fun.
Thanos Rising is an excellent gateway cooperative game. It can be learned very quickly, looks great, and plays smoothly. It does rely on dice a lot, and sometimes the games last a bit too long, but otherwise, it's a fun game.
---
4. Marvel Dice Masters (series)
Published: 2014 onwards
Designer: Mike Elliot, Eric M. Lang
Playing time: 30 minutes
Players: 2 players only
Complexity: light-medium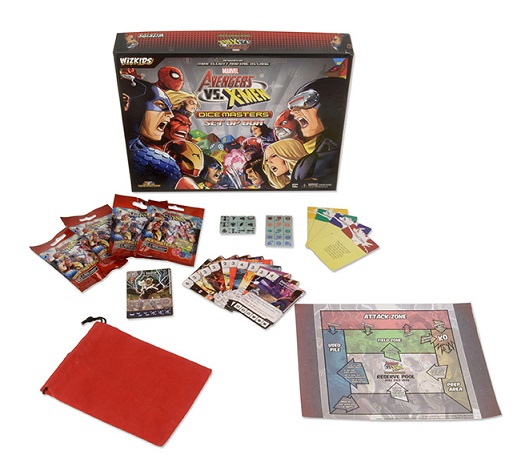 Collect 'em and chuck 'em!
Two teams of Superheroes, Supervillains, or a combination of both are facing each other. Weapon of choice? Dice!
How to play
Marvel Dice Masters is a collectible dice-building universe. The game is highly customizable, with a plethora of starter sets available.
The battle is fairly simple and fast. It is done by assigning your custom dice to whatever action you want to accomplish: attack, block, collect energy, recruit new heroes, and so on.
Tactical choices are deepened by each unique character and its abilities.
Editions and Expansions
As said, Marvel Dice Masters is a collectible dice game. That means a near-infinite number of starter packs, bix-box compilations, and random boosters.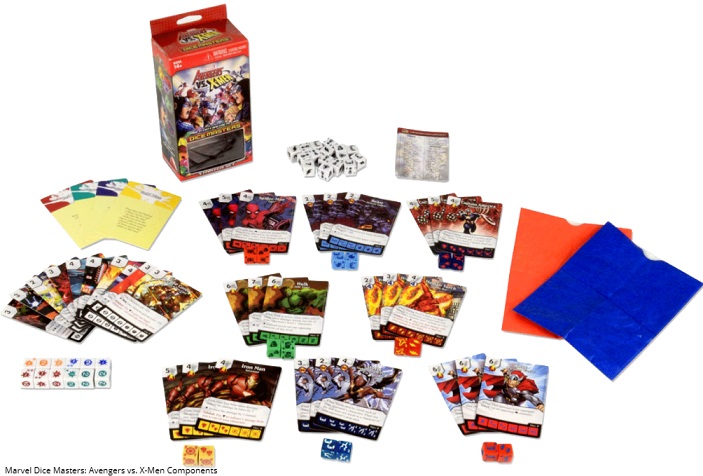 Marvel Dice Masters (series)
Fun and fast dice combat.
A lot of variety.
The collectible model may not be for everyone.
You've got to be aware of what you're getting into with Marvel Dice Masters. But if you're looking for a collectible Marvel board game, one of the starter sets is a good entry point. Luckily, the prices are not that steep.
---
3. Marvel United
Published: 2020
Designers: Andrea Chiarvesio, Eric M. Lang
Playing time: 40 minutes
Players: 1-4
Complexity: light-medium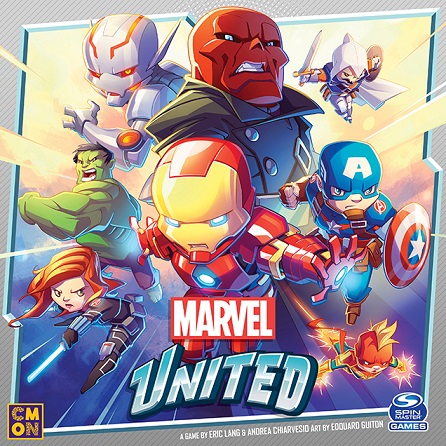 Best Marvel board game for families
Thematically speaking, Marvel United is pretty typical. Each of the players controls one of the heroes (there are seven available: Captain America, Iron Man, Black Widow, Captain Marvel, Hulk, Wasp, and Ant-Man) in a cooperative fight against one of three villains (Red Skull, Ultron, or Taskmaster).
But the villain is just the final obstacle. First, players must get to him by beating the threats the villain throws at them. These might be minions that need to be beaten, civilians that have to be saved, etc.
If the players are successful and reduce the villain's hit points to zero, they win. If the villain achieves its plot or the players take too long, the game is lost.
How to play
Marvel United is a family-friendly cooperative game. Each of the figures is presented with a miniature, character board, and a unique deck.
The gameplay is simple: on your turn you play one card from your hand, activating it.
The trick is that this card also activates a part of the previous card (played by the previous player). This is the cooperative part – players must work together to best utilize their cards, achieve synergy and make them as effective as possible.
Editions and Expansions
One of the criticisms of the base game is the lack of villains and overall content. But be aware that by entering the Marvel United game world, you're not buying just the base game, you'll be buying the expansions too – sooner or later.
There are dozens available. Spiderman, X-Men, Guardians of the Galaxy, Sinister Six, Black Panther, Deadpool, Fantastic Four, the list goes on and on …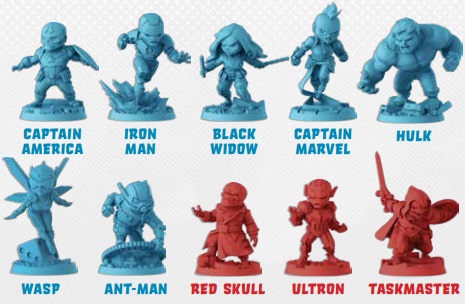 Marvel United
Family-friendly.
Cool miniatures.
Needs expansions – luckily there are many available.
Marvel United is everything a family of Marvel fans wishes for. Light cooperative gameplay, great presentation with miniatures, and a ton of expansions to upgrade.
---
2. Legendary: A Marvel Deck Building Game
Published: 2012
Designer: Devin Low
Playing time: 30-60 minutes
Players: 1-4
Complexity: light-medium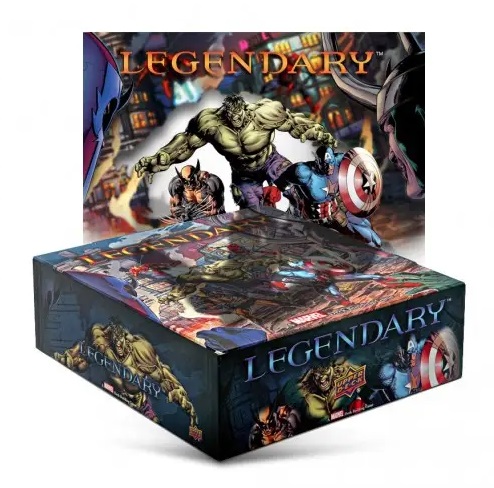 A tested system
Using a tested Legendary system (most famous for Legendary Encounters: Alien Deck-building game), combined with dedicated artwork and adapted for the Marvel universe, Legendary: A Marvel Deck Building Game is a guaranteed winner.
The setting is familiar: players take on the roles of S.H.I.E.L.D. agents, assembling a team to stop the evil Mastermind (Red Skull, Magneto, Dr. Doom, or Loki).
You don't play as one specific hero, but rather as a team of heroes.
How to play
What separates Legendary from the rest of the list is the strong deck-building aspect. Not only do you have to fight the villain and his schemes, but you also spend points to add more and more powerful cards to your deck – to the point when you're ready to face the boss himself.
There's a lot of room for customization. The base game comes with the aforementioned 4 villains and 15 heroes. Together with 500 cards, this makes for a lot of variabilities. There's no fear of seeing the same cards over and over again.
By nature, Legendary is a cooperative game – you all fight against the same villain. But it also has a strong competitive component – you want to be the guy inflicting the most damage, earning the most points. The game works great for most player counts, even solo.
The gameplay is very satisfying. The turns go by quickly, adding new cards is exciting, and you can feel your power growing. The artwork has been made for the game exclusively and is stunning.
Editions and Expansions
As expected, the expansions add a plethora of heroes and villains. Guardians of the Galaxy, Fantastic Four, or Paint the Town Red are some of the more popular titles.
The choice to customize the game to your liking is yours – the possibilities are nearly endless.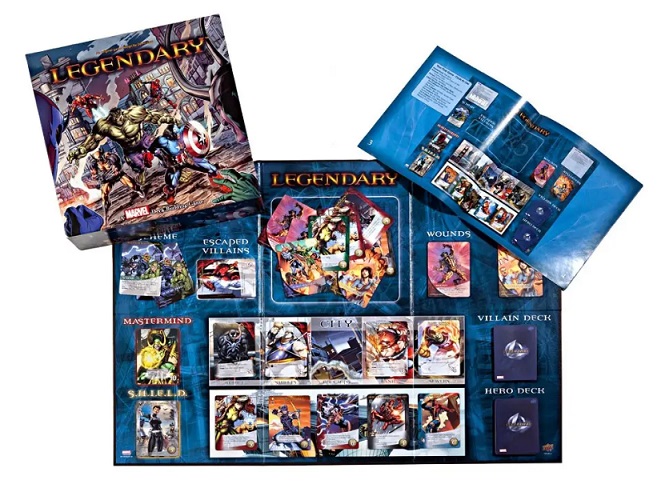 Legendary: A Marvel Deck Building Game
Great theme and art.
Excellent deck-building mechanics.
A lot of customization options, especially if you add expansions.
Legendary: A Marvel Deck Building Game is a board game that will appease both Marvel fans and deck-builder fans alike.
---
1. Marvel Champions: The Card Game
Published: 2019
Designers: Michael Boggs, Nate French, Caleb Grace
Playing time: 45-90 minutes, depending on the number of players and scenarios selected.
Players: 1-4
Complexity: medium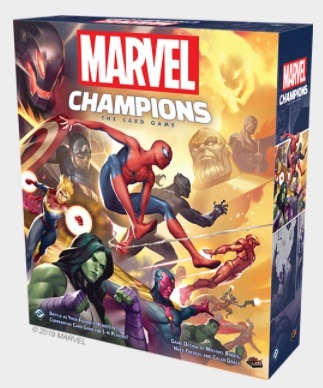 Best Marvel board game overall
In Marvel Champions: The Card Game you, once again, play as a hero. You are stacked up against a villain, which is selected based on the scenario.
Villain's goal is to defeat all the heroes or advance its villainous schemes to completion. The villain will also call up his minions, boost cards, and play further schemes.
It's the hero's task to stop him from succeeding. That's done by using your hero directly, playing boost cards, and activating helpers.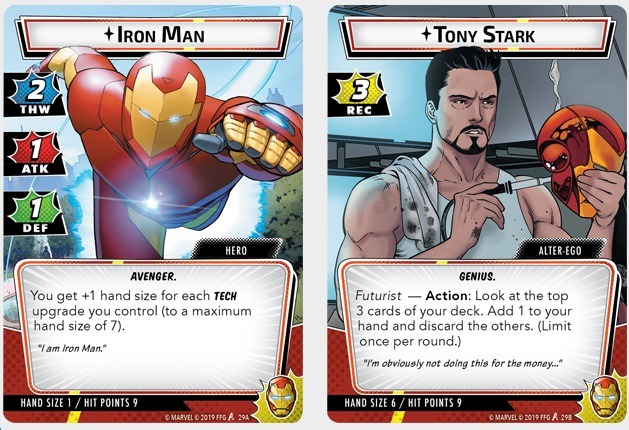 How to play
The game alternates between the player and villain phase until one of them completes his objectives.
In the player phase, you can:
play cards from your hand,
trigger actions,
attack the villain or his minions, thwart threats, or recover hit points,
change your form: you're either in hero (can attack or thwart) or civilian form (can recover hit points).
Villain's phase is next:
Threats are placed on the main scheme. If they reach a threshold, another scheme comes into play. If the final scheme reaches its threshold, players lose.
The villain will now attack players (who are in their hero form) or place more schemes (for players in civilian alter-ego form).
Each player also draws an encounter card. These are further setbacks and must be resolved right away.
Editions and Expansions
Marvel Champions is a living card game. Although the base box has plenty of content, many expansions are available:
Hero packs (each 60-card deck introducing a new hero, along with hero-specific cards and other cards),
Scenarios (introducing new villains and their schemes) and
Story boxes (larger packs with a combination of both above).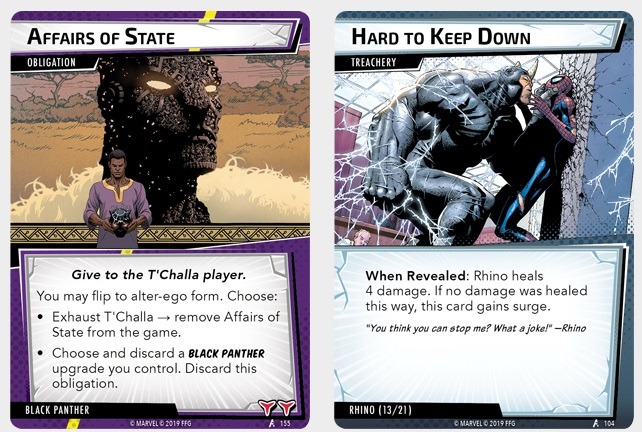 Marvel Champions: The Card Game
Excellent game mechanics.
The visual presentation is top-notch.
With all the expansions, the game will go strong for years.
Marvel Champions is a fun card game with sound, challenging, and well-balanced game mechanics. If you're a fan, you will enjoy this for a long time into the future – it's rightfully the best Marvel board game.
For similar games, check out Arkham Horror LCG and Lord of the Rings Card Game.
---
Further reading: