Christmas holidays are for many the most family-friendly time of year. It's a time of giving and rejoicing. Board games are among the best gift ideas, so on this Top 10 Christmas Board Games 2022/23 list are some that work great as gifts for family play.
Introduction to Top 10 Christmas Board Games
Here are the criteria I used when selecting the titles:
Christmas is the time we spend with our families. That means the games have to be adjusted for that.
Rules have to be simple and easy to teach. Normally you want everyone, even non-gamers to start playing mere minutes after opening the box.
The theme has to be interesting and appealing. The players have to be immersed in the game for the whole duration.
You don't want the games to drag on too long. 30-60 minutes is the maximum – remember, you're not playing with your fellow gamers, but with your grandmother and your nephew.
The games have to work best at around 4 players as this is a somewhat standard family number. Of course, some play equally well with fewer and more players.
The list below is nowhere a definitive list of games or a ranking list. It's just a list of ideas for Christmas shopping. I hope you find something you like on it. For more ideas I usually check BoardGameGeek.
| | Title (click to jump to that part of the article) | Tags | Check Price |
| --- | --- | --- | --- |
| | Pandemic: The Cure | dice-driven , cooperative | $$$$ |
| | The Crew: The Quest for Planet Nine | cooperative, cards, trick-taking | $ |
| | The Quacks of Quedlinburg | bag-building, push-your-luck | $$$$$ |
| | That's Pretty Clever! | dice, roll-and-write | $$ |
| | The Quest for El Dorado | racing, deck-building | $$$ |
| | Camel Up (Second Edition) | racing, betting, dice | $$$ |
| | Colt Express | action programming, 3D components | $$$$ |
| | Treasure Island | deduction, drawing, one vs many | $$$$ |
| | Tokaido | linear action selection, set-collecting | $$$ |
| | Sushi Go Party! | card drafting, set collecting | $$ |
There are affiliate links by the titles. I am affiliated with Amazon (as well as with some other stores) and will earn a commission if you buy something through my link.
Pandemic: The Cure
| | |
| --- | --- |
| Players | 2-5, best with 3-4 |
| Ages | 8+ |
| Playing time | 30 minutes |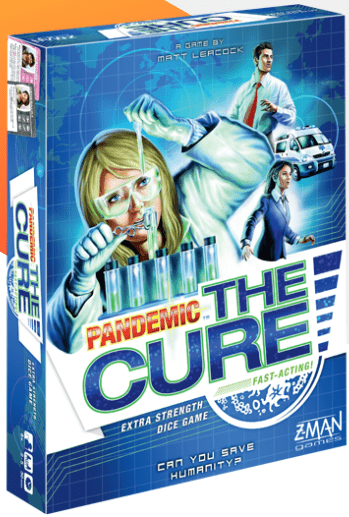 Theme
Not one, but four deadly diseases are threatening to overcome humanity. Can you and your team of various occupations keep the hotspots in check and develop the cures at the same time?
How to Play?
Unlike the other variants of Pandemic, the Cure is dice driven. Each turn you will roll them and they will decide what actions are available to you. You can sail and fly between six different population centers, treat diseases at your current location, collect samples for further study, and exchange knowledge with other players.
Cooperation, planning, and exchanging knowledge with other players are crucial to success. Each of the specialists has a different set of dice and abilities (Medic is better at treating diseases, Dispatcher can move others around) which you have to use wisely.
But the game never cuts you any slack. After every turn, infection dice are rolled, infecting more and more people, with possible outbreaks that can spread across regions.
Too many outbreaks and you will lose – unless you find cures to all four diseases.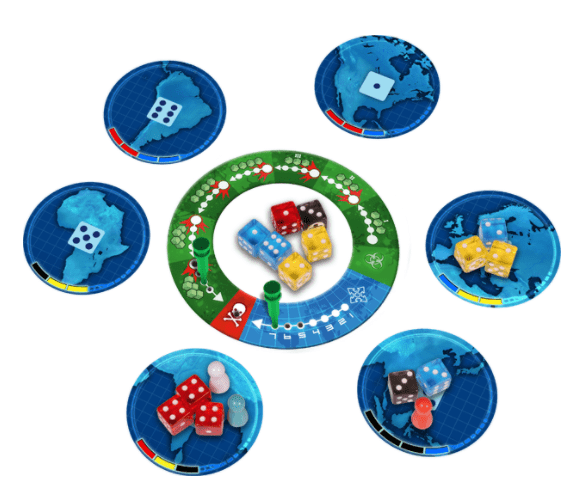 Pandemic: The Cure
Very tactical, despite the action being dice driven.
Powerful pandemic theme.
Super quick to set-up and smooth to play.
Fun cooperative experience, despite being very challenging to win.
Check out Pandemic: Legacy for a more complex experience or Messina 1347 for a bit of medieval plague.
---
The Crew: The Quest for Planet Nine
| | |
| --- | --- |
| Players | 2-5, best with 4 |
| Ages | 10+ |
| Playing time | 20 minutes |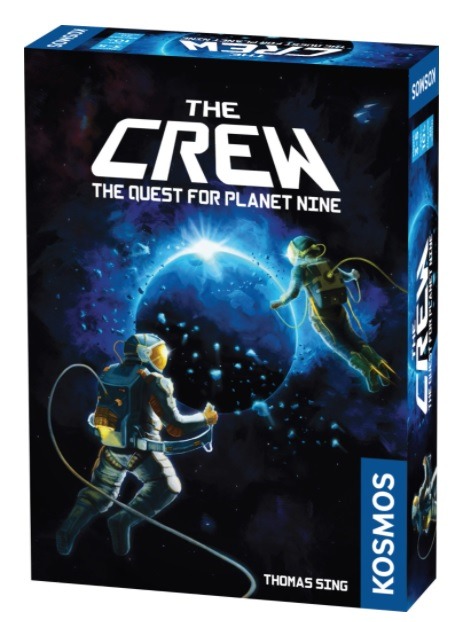 Theme
Our next game takes us deep into outer space. The players are astronauts on a space adventure that spans over 50 missions. There are rumors about an unknown planet – can you find it?
How to Play?
The Crew is a cooperative trick-taking game, with trick-taking meaning the cards that you win during the game.
The 40-card deck contains 9 numbered cards and 4 trumps, all in four colors. The player with the highest trump becomes the commander, which means he's the first to draw a task. Tasks are simply cards that you must win during the game to succeed in the mission.
Successive missions have more than one task and it's the combination of these and the limited information (players are only allowed very little communication), that makes this game a tricky puzzle. The campaign is well-structured and the challenge increases gradually.
The card shuffling ensures high replay value and different tactical approaches that will make you want to play mission after mission.
The Crew: The Quest for Planet Nine
Classic card game of trick-taking.
Cooperative nature together with limited communication give it a fresh approach.
Approachable to all ages and group sizes, but still allows plenty of tactical depth.
Fairly cheap.
Has won a truckload of board gaming awards in both 2019 and 2020.
---
The Quacks of Quedlinburg
| | |
| --- | --- |
| Players | 2-4, best with 4 |
| Ages | 8+ |
| Playing time | 45 minutes |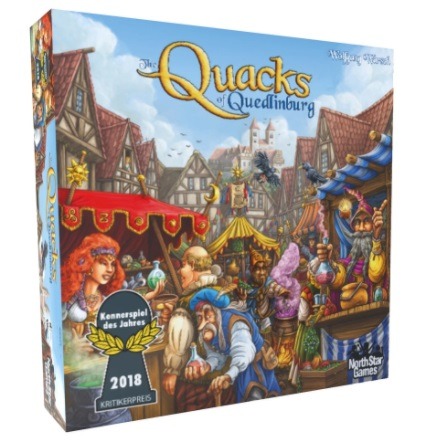 Theme
You are one of the Quacks at the 9-day-Quedlinburg festival. Your task is to make money by selling people a potion that will magically solve all their troubles. Pumpkins, mandrakes, crow skulls, spiders, and even rat tails – there's nothing you will not try to put in the cauldron.
How to Play?
The Quacks of Quedlinburg has two prevalent game mechanics: push-your-luck and bag-building.
You draw ingredients from a bag and then place them on your personal board. The more you put in, the more points and money you will get at the end of the round. But among the ingredients are also white cherry bombs – draw a total number of 7 of them and your potion explodes, ending the day for you.
Buying new ingredients and putting them in your bag is very important – you're the master of your own fortune here. There are several different ingredients, power-ups, and abilities, that make every game of Quacks of Quedlinburg different.
The gameplay is super exciting – you never know whether you will draw an ingredient that gives you points or a bomb. Should you stop while the potion is still good, or keep drawing and risk an explosion?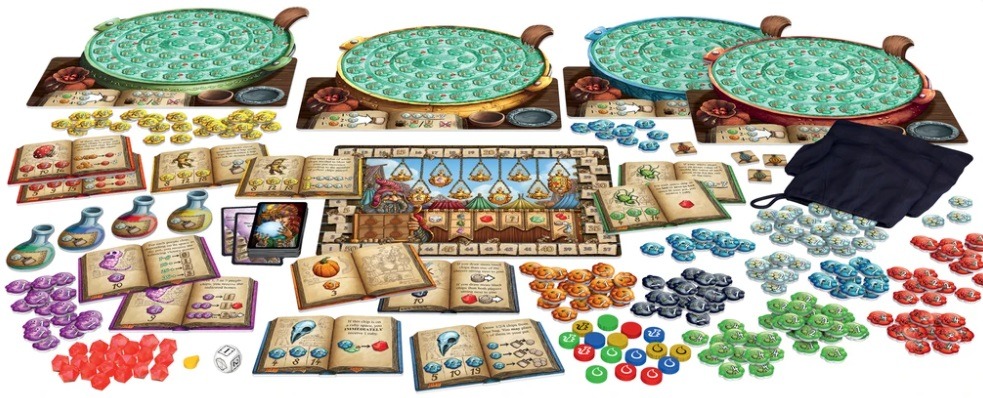 The Quacks of Quedlinburg
Playful and colorful theme.
One of the finest push-your-luck board games.
Simple and immensely fun for everyone involved.
A lot of variety and high replay value.
Check out Orleans, a deeper bag-building strategy game.
---
That's Pretty Clever!
| | |
| --- | --- |
| Players | 1-4, best with 2 |
| Ages | 8+ |
| Playing time | 30 minutes |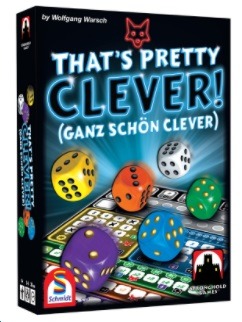 Theme
Dice in modern board gaming are often looked down on, but it's still one of the most efficient and popular ways of including a random element in a board game. If it's well done, it's a joy to play and That's Pretty Clever does it extremely well.
How to Play?
The rules of this one are super easy. Each turn, you will roll a number of dice and then fill out the results on your sheet.
But here's where it gets "Clever". There are 6 different colors of dice and each gets its own section on the sheet. In Blue you take the total of white and blue, in Green, you go from left to right and from smallest to largest, in Orange, you just put in the number, White is the wild color, and so on.
If you have been clever in filling out your tables, you will kickstart multiple bonuses, re-rolls, and chaining combos. There is an element of luck involved, but filling out your sheet is still a strategic endeavor and a fun challenge – especially when you roll exactly what you need, hauling home those big points.
There's also player interaction as you always have to put one die onto the common area, making other players very interested in what you keep. They will try to trash-talk out of it!
That's Pretty Clever!
Really fun dice game for the whole family.
Combines luck with clever decisions and trade-offs.
Chaining those points combos is contagiously addictive.
Sagrada uses similar mechanics. You use dice to build stained glass windows. On the other hand, One Deck Dungeon uses dice to battle monsters and fight your way through a dungeon.
---
The Quest for El Dorado
| | |
| --- | --- |
| Players | 2-4, best with 2 or 4 |
| Ages | 8+ |
| Playing time | 30-60 minutes |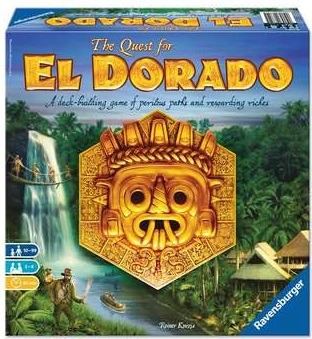 Theme
Deep in the South American jungles (allegedly) lies the legendary land of gold and eternal youth – El Dorado. It's time to put an end to the legend and find it!
You and other players take the roles of expedition leaders. Assemble your team and be the first to the legendary golden city!
How to Play?
The Quest for El Dorado is a card-driven racing game. Your goal is to be the first to cross the various terrain types linked together by hexes. In the end, El Dorado awaits, but the path is not that simple.
Your movement is driven not by dice, but by cards and there is an element of deck-building (you can add more cards and equipment to your team) involved. To cross specific terrain like the jungle, you need cards with machetes, and it's similar in other terrain types.
Choke points will inevitably emerge on the map and a tactical element of blocking other players comes into play. See, you can play as many cards on your turn as you like (or none), so sometimes it's better to save them for later.
What is impressive is how the designer Reiner Knizia managed to mesh these simple mechanics and created an excellent game out of them. The Quest for El Dorado has it all: an appealing theme, simple rules, intuitive gameplay, engaging game mechanics, planning ahead, tactical decisions, and interaction between players.
No wonder it has been nominated (and won a few) for several major board gaming awards and I cannot recommend it enough.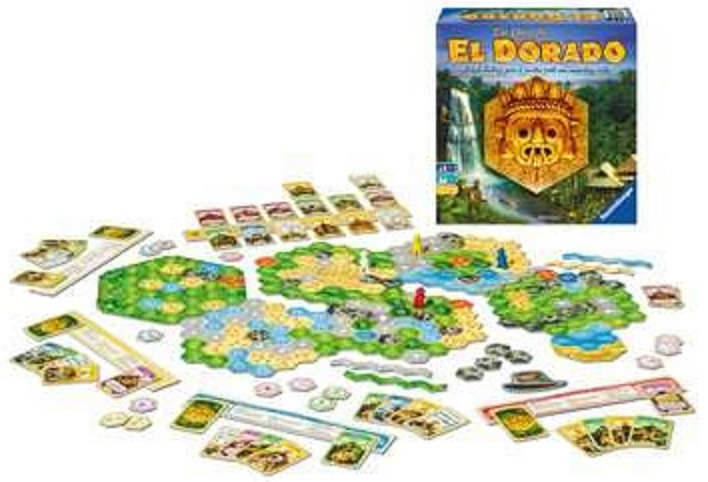 The Quest for El Dorado
Simple racing game with a lot of tactical depth.
Very simple to learn and play.
Appealing looks.
Engaging card-playing mechanics.
For more racing games, check out 7 Best Auto Racing Board Games.
---
Camel Up
| | |
| --- | --- |
| Players | 3-8, best with 4-6 |
| Ages | 6+ |
| Playing time | 30-45 minutes |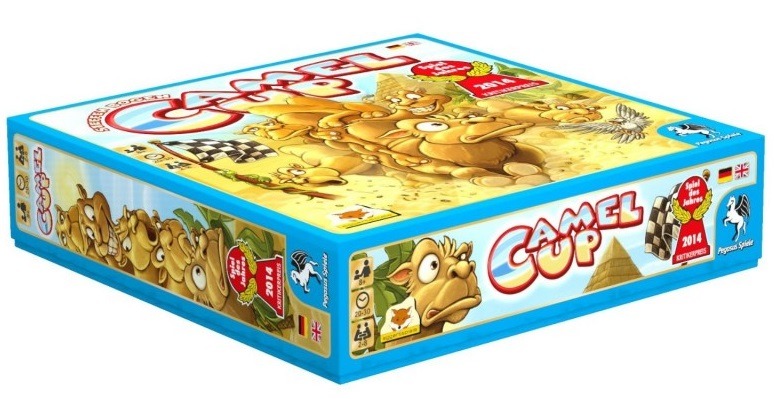 Theme
We're not entirely done with racing yet – this time the camels are doing the racing. We're in Egypt and they have chosen one of the pyramids and the routes around it as their proving grounds.
But you're not racing the camels – you are one of the bystanders that are betting on the results. Can you be the gambler that makes the most money?
How to Play?
Came Up has very simple rules that even small children and non-gamers will pick up instantly.
You either roll a random die (helped nicely by the pyramid acting as a dice tower) or make a bet on which camel will be in the lead at the end of the round, bet on the overall winner or loser, or try to gamble on the exact movement of the camels by placing your character on the racetrack (and let the camels trample you :)). Successful bets earn you money.
There are a few tricks that spice up the game. If the camels land in the same space, they ride each other's back, with the bottom camel moving the whole stack. Unpredictability further increases because you never know which die will be rolled (they're hidden inside the pyramid). And finally, two camels are not part of the race and move on the racetrack backward.
This results in a chaotic and frantic game, where you can never be sure how things will turn out. But that doesn't stop you from trying – after all, you're a gambler!
Even though you can use wits to predict results, luck still plays a large role, so the game is more about the experience than the end result. And the experience is great, thanks to appealing looks, betting, bluffing, and racing mechanics.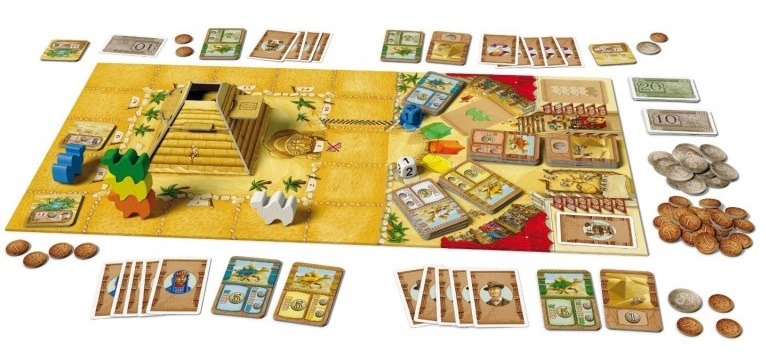 Camel Up
One of the best games when introducing new players to board gaming.
Fast, chaotic fun.
Art and components are very appealing, especially with the reworked 2nd Edition.
Some might not like the gambling aspect.
---
Colt Express
| | |
| --- | --- |
| Players | 2-6, best with 5-6 |
| Ages | 8+ |
| Playing time | 40 minutes |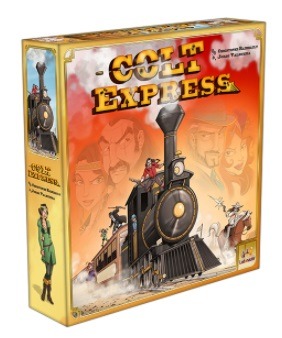 Theme
The end of the 19th century, somewhere in New Mexico. Heavily armed bandits have their eyes on the Union Pacific Express with 47 passengers onboard and a suitcase full of money. Will they succeed in stealing the loot, or will the Marshal stop them? In Colt Express you play as one of the bad guys!
How to Play?
The game takes place on a cardboard 3D train, where players, each controlling a bandit, move from car to car or on the roof. You can punch and shoot other bandits, rob the passengers, and try to draw the Marshall out of position.
Players play cards from their hands onto a common pile. When all the players have "schemed", the actions are then carried out. That means you have to plan your actions in advance, while also anticipating what others will do. And then watch in horror when your well-planned moves turn into chaos.
You can play cards like steal (if there is loot in your car), shoot other players if they are near, etc. What matters, is the order of those cards – you want first to get rid of competition and then go looting.
Every character has a special power (like starting with extra cards or pocketing extra loot) which adds to the replay value. When you shoot someone, you give them a bullet card, which acts as a dead card in their deck.
After 5 rounds of gunning and grabbing the heist ends and it's time to count the spoils.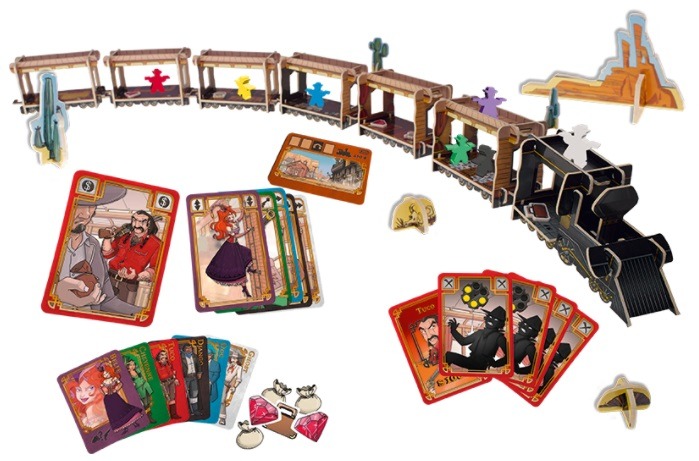 Colt Express
Exciting theme with nice components.
The more players the merrier.
Very solid action programming mechanics.
Highly entertaining, despite sometimes being chaotic.
Check out Top 10 Train Themed Board Games.
---
Treasure Island
| | |
| --- | --- |
| Players | 2-5, best with 4 |
| Ages | 10+ |
| Playing time | 45 minutes |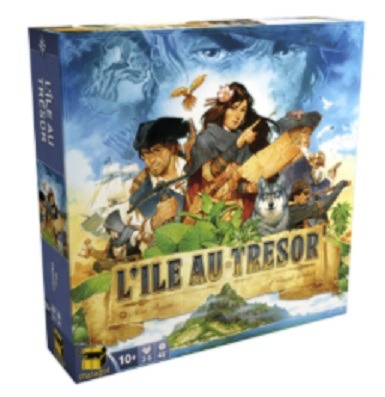 Theme
Pirates just like to bury their treasure, don't they?
Captain Long John Silver has been cornered by his crew to give out the location of his treasure. Threatened with life, he has no other choice, but to give directions. Or perhaps misdirection? Surely the old buccaneer has an ace or two up his sleeve …
How to Play?
One of the players plays as Long John. He marks the location of the treasure behind his screen and then gives out clues to other players. Those move their miniatures on the picturesque island, interpreting clues, and looking for the treasure.
Searching is done by drawing circles on the map and if the treasure is in the circle, you win. Erasable markers, rings, and rulers are provided and the board looks really cool with all the searches and other lines on it.
After a while (day 17 in game terms), Long John escapes and heads for the treasure himself. If he gets there before the players, he wins. He knows where the treasure is, but he can be damn sure other players are following his every move, and being outnumbered, he's in a delicate position. You must trick other players, leading theme elsewhere … or go straight for the treasure and make them think, you're tricking them.
A lot of the gameplay happens behind the scenes. Observing what other players are doing, where are they searching, how are they moving, and assembling the clues together is crucial to success. Even if you find out where the treasure is, you must be careful to not go for it too obvious or an avid co-player might pick up on what you're doing and get there ahead of you.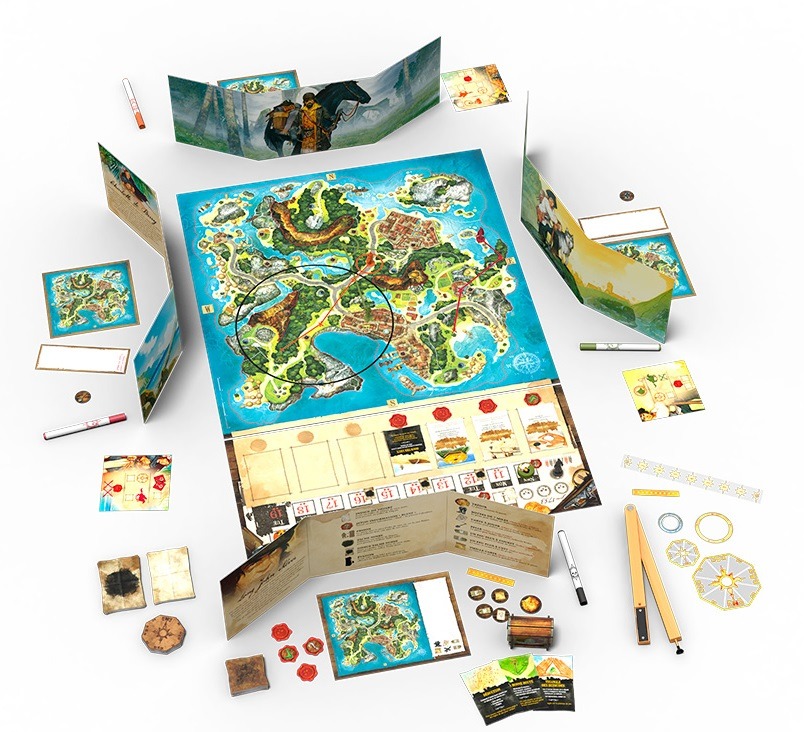 Treasure Island
A fresh approach to a deduction genre, with a drawable/erasable map.
Engaging gameplay, you have to get into each other's heads.
Easy to play with great art and components.
Check out Top 10 Pirate Board Games.
---
Tokaido
| | |
| --- | --- |
| Players | 2-5, best with 4 |
| Ages | 8+ |
| Playing time | 45 minutes |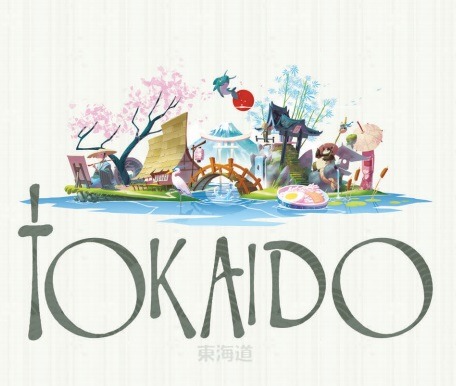 Theme
We're done with violent themes. Tokaido is a tourist simulator. Each player is a traveler along the famous Japanese "East sea road". You will meet people, visit farms, paint beautiful vistas, dine at inns, buy souvenirs, visit temples, and have a truly zen experience.
How to Play?
There are other travelers on the same path, but Tokaido is not a race. Instead, you strive for going as slowly as possible, since everything you do gives you points. The path is linear – once you passed a location you can't go back, but locations do appear multiple times on the path.
You can move forward as many places as you like, but the trick is that the last one on the path always moves first. Some places are almost always blocked by other players. The dilemma is whether to take the first available space and risk having your future space blocked, or skip a few places, and go directly to where you want, but risking taking fewer turns.
Each traveler starts with a bit of money and a special ability and you're on your way. You can spend your money buying souvenirs, and meals at the inns, or donate it to temples. You can visit a farm to get some money back.
Visiting vistas (sea, mountains, etc.), and collecting sets of food and souvenirs (all with beautiful art and Japanese names) nets you points, with sets providing bonuses. Spending money wisely, planning your locations ahead, collecting the right items, and always have dinner are the keys to winning Tokaido.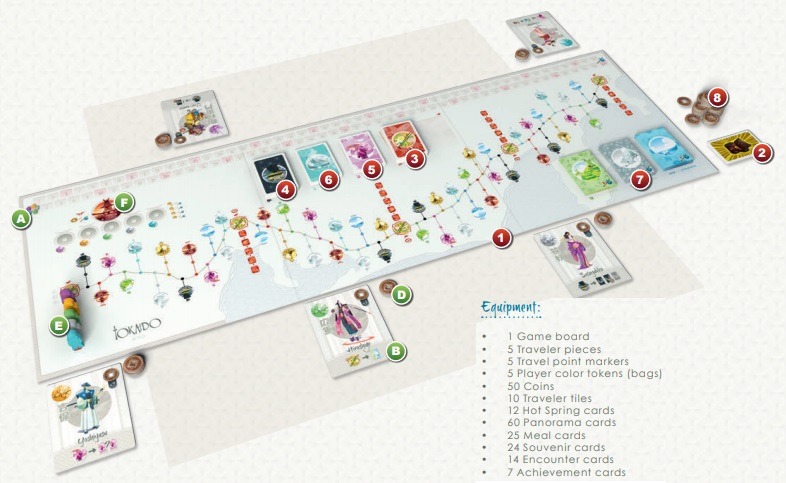 Tokaido
Light, zen-inducing set-collecting game.
Linear action track gives you important choices every turn.
Fantastic artwork, with very thematic food and souvenirs.
---
Sushi Go Party!
| | |
| --- | --- |
| Players | 2-8, best with 4-5 |
| Ages | 8+ |
| Playing time | 20 minutes |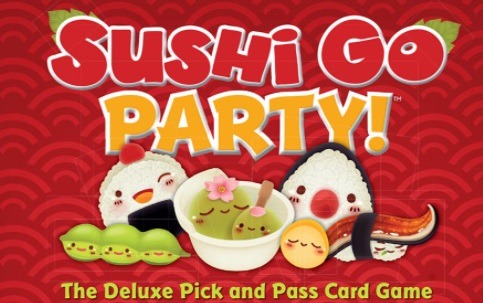 Theme
We're still in Japan, it's time to have a proper dinner. Three appetizers, two specials, a roll, and a dessert.
If you haven't been to a Japanese restaurant before, Sushi Go Party! will have you drooling over cards like:
Nigiri (Thin slices of raw fish served atop rice),
Wasabi (Japanese horseradish),
Sashimi (Sliced raw fish (or other meat) served without rice),
and so on – 181 in total.
How to Play?
Sushi Go Party! is another extremely easy-to-learn game on our list. Its main mechanics are card drafting and set-collecting.
After each player is dealt a hand of cards (the number depends on the player count), it's time to play. Each turn, you will select one card, place it in front of you, and pass the hand to your player on the left.
When you run out of cards, there is scoring, and the whole process repeats three times in total. Desserts are scored at the very end.
Where it gets tricky are the various scoring opportunities, multipliers, bonuses, and dish co-dependencies. Some dishes score more if they are accompanied by others and so on.
With a large number of cards available, special menus, spoons, and desserts, the replay value is very high and opportunities endless.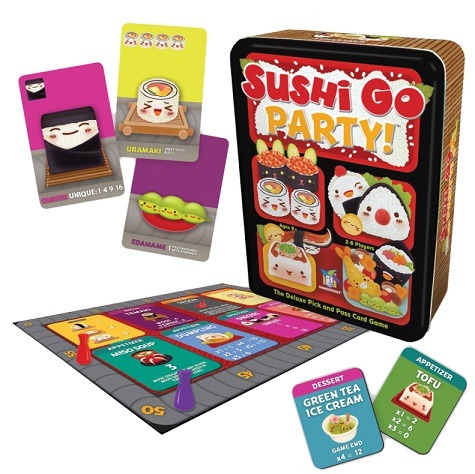 Sushi Go Party!
Easy and quick gameplay.
A lot of scoring variability and replay value.
Good entry point for card-drafting games.
Fairly cheap.
7 Wonders is probably the best card-drafting board game.
---