On this page, you can read about an upgrade to Mage Knight. Read the full Mage Knight: Folded Space Insert Review to learn whether it's worth investing in.
Introduction to Mage Knight: Folded Space Insert Review
If you follow my articles regularly, you probably know that Mage Knight is one of my favorite board games. It's a game I go to for some quality solo time. To face a challenge, to practice arithmetics in my head, and to enjoy the brilliant sense of progress.
If you want to find out more about Mage Knight, here's an entire category of articles, dedicated to it.
I own the Ultimate Edition, which includes the base game and all the expansions. Moreover, it comes with a decently designed plastic insert that holds all the components. It's not ideal though, especially when it comes to tokens that are unique to every character.
There just isn't enough space to keep everything separated, so I had to resort to some DIY solutions. Basically, I made compartments in small cardboard boxes. It did the job, but it wasn't very pretty or elegant.
Another issue with the default storage is that it's not helpful during the game. The enemy token stacks are especially clumsy and you also want to have trays to hold the mana and other tokens. Since Mage Knight comes with so many components and can easily take up an entire (large table), every bit of the organizing kit helps.
I had my eyes on several inserts from the third-party market, but I wasn't ready to spend another game's worth of money. Luckily, the guys from Folded Space came to the rescue and they offered me to review their "budget" insert.
How does it help with storage and during the gameplay? Is it better than the original and worth considering over the more expensive alternatives?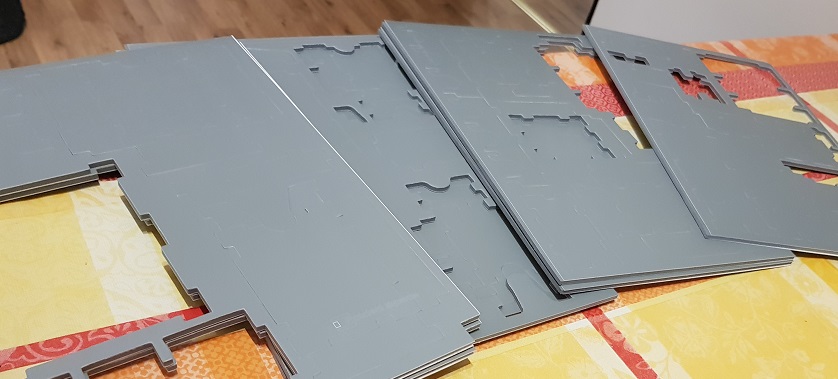 Assembly
Folded Space is a company that specializes in inserts for board games. They're laser-cut from Evacore foam, which guarantees a high level of accuracy.
The inserts are meticulously designed, meaning that they hold all the components, fit in the box perfectly, and can also be used during the gameplay. The material is lightweight and durable.
Assembly is not complicated and, I must add, quite therapeutic. All you have to do is follow the instructions: punch out the components, apply glue, and assemble them.
After two hours (there's a lot to put together for Mage Knight insert), you are done and when the glue dries, your insert is ready to be filled.
Although the suggested layout of components is included in the manual, there are just so many components in the game, that I had to resort to the Folded Space website. They have remarkably informative photos, which can help you with sorting the components into their respective holders.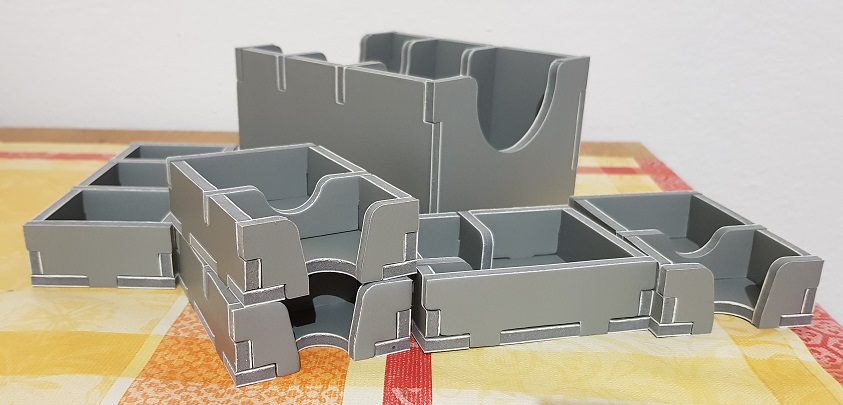 Storing Mage Knight + Expansions
If you're one of the guys that bought the original vanilla copy of Mage Knight and added the Lost Legion, Shades of Tezla, and Krang expansions later, you have your Mage Knight content scattered all over the four boxes.
Although every one of the four boxes came with an insert, that's far from ideal and is something the Folded Space insert can rectify. With it, you can now hold all the components in the base game box, making the setup a lot smoother.
The only issue is that the Folded Space insert does not provide any cushioning for the miniatures, they're just thrown in a box together. If you're sensitive about that or transport your copy a lot, you might want to consider storing them separately.
Other than that, the insert is a perfect fit and highly recommended.
Storing Mage Knight Ultimate Edition
The situation is slightly different if you own the Ultimate Edition. You now already have all the components in one space, so that is not an issue. But this box is physically much larger and therefore the insert does not fill it completely. You need to add some cushions to one edge to avoid sliding it all over the place if you're not careful handling it.
The issue with miniatures remains, but to a lesser degree. Since the Ultimate Edition comes with a separate plastic tray for them, you can just lay it on top of the new insert, since there's enough room in the box anyway.
Although the insert helps with gameplay (see next section), I wouldn't rush into getting it, especially if you already have a DIY solution to separate character tokens (boxes or bags).
But, ff you're looking for a one-step budget solution for all the issues, Folded Space is the way to go. On the other hand, if you treat your Mage Knight Ultimate Edition as almost a collectible work of art, you might want to invest in something nicer (and more expensive).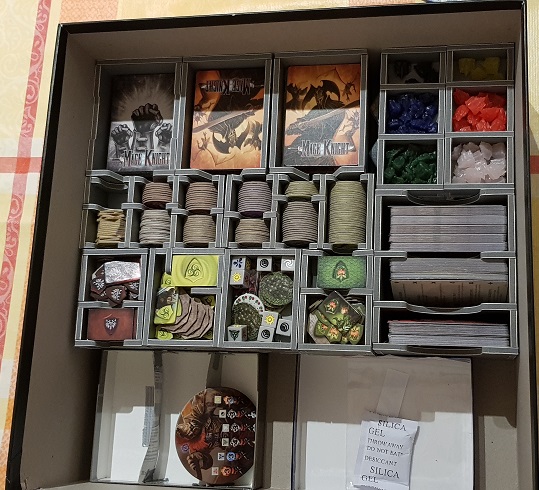 Functionality During Gameplay
Among the clumsiest Mage Knight components are definitely the enemy tokens. The stacks are quite high, hard to shuffle, and can topple over if you're not careful. Folded Space has two holders for all of them.
Although I couldn't quite figure out the compartments, these helped a lot. You just take them out of the box, put them on the table, and draw directly out of them. Simple and elegant. Just don't forget to shuffle now and then. 🙂
The same is with cards. Not that they needed holders in the first place, but it's definitely much sleeker this way.
Two components that definitely need a holder are mana tokens and character skills and markers. Especially the latter is a blessing, as you can draw the skill tokens directly from the box – which was another stack that loved to topple over.
To conclude, the Folded Space insert does improve the setup time and gameplay elegance. It's noticeable, but it's not something I couldn't live without.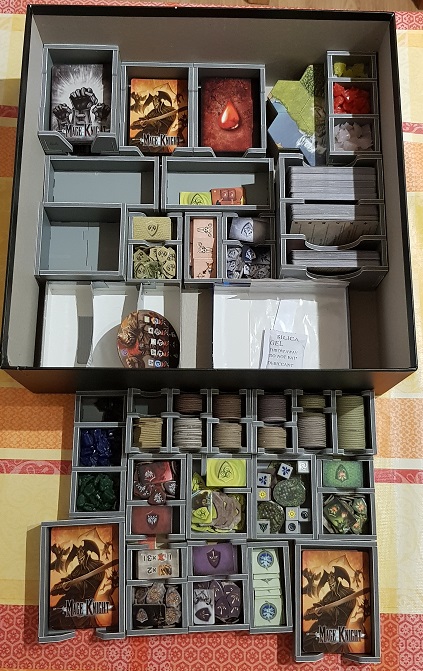 Alternatives
As said, there are (more expensive) alternatives available – I'll list them below for the sake of completeness. If you're looking, they're just one google search away.
The Broken Token organizer is, at first sight, very similar to the Folded Space when it comes to functionality. The material used is more natural (wood), but the solution for miniatures is the same. It also fits into the smaller base game box.
The Dicetroyers insert is designed for the Ultimate Edition box and uses trays that fully stabilize miniatures, making them immune to any kind of transport damage. It's also more expensive, but it looks terrific and uses premium materials (wood). For the price of it, you can buy a fairly large board game.
The ultimate (and even more expensive) insert is the Laserox one which looks even nicer and comes with display boxes for the miniatures. It's also made of wood and fits into the Ultimate Edition box.
Conclusion
Folded Space insert for Mage Knight does help with storage, particularly if you own the base game and bought the expansions separately. Its significance is less with the Ultimate Edition, which already has a decent insert for everything.
The insert also helps during the gameplay, especially at holding the enemy tokens.
Yes, there are nice, better, and more expensive alternatives out there. But none of them beat the bang-for-your-buck value of Folded Space.
If you click on an affiliate link, it will take you to the Amazon store. If you then buy something, I will earn a commission – I am a member of the Amazon Associates program, as well as others.
Read about more inserts: