Current trends in the board gaming industry show that more and more games are published every year. How does one get around this pile of board games and find the games worth playing?
Introduction to Board Games Trends
If you are old enough to remember board games from twenty or even thirty years back, you probably don't remember a lot of them. At least that is the case for me. There were Monopoly and some simple games like pachisi or checkers. And chess, of course. That's pretty much where it ends for me. I have heard there were others, but for our socialist reality, that was more like a distant dream.
In the capitalist world (especially America), there were more board games available, but that was all just a drop in the ocean compared to what the market offers today. Today's board game trends show strong growth in published board games per year.
Every year, more and more board games are backed on Kickstarter or published and the choice is huge. This can be both good and bad for the consumer. We're going to look at some statistics, some positives, some negatives, and why there are sites like our victoryconditions.com here to help you.
Let's begin with some raw numbers
Looking for information about board games published per year, the first problem I ran into was, what is actually considered a board game, and when it's considered published.
A board game can be a very broad term. Together with war games, role-playing games, eurogames, thematic games, and classic games, there is chess, simple games for kids, card games, and thousands of versions of Monopoly. And don't forget expansions and reprints. Where do you count them into?

So, finding a credible solid piece of information proved difficult and I had to resort to mere approximations. This is a graph that I found on Wikimedia Commons and the one I think best describes the state of the board game industry. Its source is a thread on BoardGameGeek forums, where people have asked themselves such questions previously.
Graph Analysis
The graph shows board games and expansions published per year that get listed on BoardGameGeek. The BoardGameGeek database is probably the most complete in the world and if the board game is not listed there, it's probably not worth knowing about. Still, take the numbers with a pinch of salt, and let's focus more on the general trend.
I'll start on the left side, in the first half of the 20th century. Although the technology was there (it's mostly cardboard after all), it wasn't until before the second world war, that we see the first spikes. Before that, society wasn't developed economically enough and politically stable enough to allow larger growth in the entertainment sector.
Numbers start to pick up after the war. More and more people can now afford luxuries and the market responds by providing them. Steady growth continues until the mid-nineties when it really booms. The major culprit (if not the main) for this boom was a game called Settlers of Catan. While it wasn't special or first in any aspect of game design, it was the first advanced (and simple in today's terms) board game that hit mainstream.
Suddenly, Catan was everywhere. Game designers and publishers realized the potential of the market and began to jump on the bandwagon. More and more games followed every year. And then some more.
This trend still continues to this day and it shows no signs of stopping. It's growing at 5.7% per year (according to this very in-depth analysis by Dinesh Vatvani).
Is the balloon going to pop?
Naturally, one asks himself, how long can this trend continue? With the current state of the world economy and the relative socio-economical stability that we're enjoying at the moment, I do not see this growth slowing or even reversing. There have been no signs of market saturation yet. The situation is actually very similar to other forms of mainstream entertainment (video games, movies, TV shows) – growth is still sustainable.
What will happen in the distant future is a bigger enigma and is connected to the growth of capitalism itself. It will grow until it inevitably collapses into itself. But then board games will be the least of your worries.
A more likely (or more hopeful) scenario is that humanity finally realizes that resources are not unlimited and transcends into a modified sustainable-socialistic capitalism where production rates for goods will be reduced to a sustainable level. All sorts of entertainment will have to follow, of course.
I have digressed a bit into speculation and futurism. Let's get back to the present. I don't expect the growth to stop in the next decade.
Quality is going up
In this part, I planned to speculate how with more and more board games published, there are more good games, more games to choose from and that the overall quality of the games improved. Luckily for me, Dinesh Vitvani has made the analysis for me: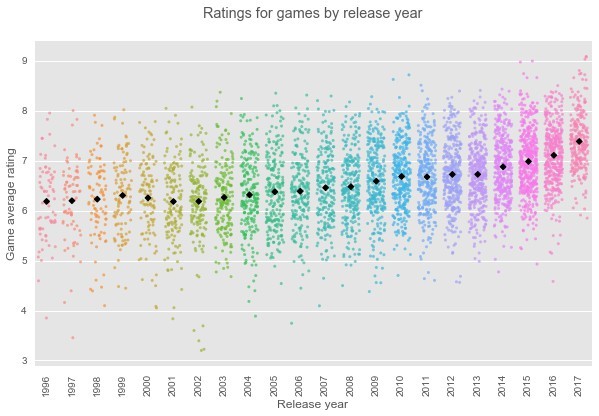 The graph confirms my predictions. There has been a steady improvement in board game quality in the last 20 years. I think there are several factors for that:
more money is available for designing and testing,
designers of today have a lot more experience (both from designing more games and learning from others),
as competition grows, players open their wallets only for the best games, forcing designers to come up with something worth buying.
You might even say that we live in a golden era of board games. And that wouldn't be far away from the truth. This is an exceptional time to be a board game player. There have never been so many good boards available.
Quantity is going up as well
Now that we've established that the overall quality of board games is increasing, let's get back to quantity (which is increasing as well) for a bit. I think that's the part the board game players have the most problems with.
With so many newly published games and expansions, new Kickstarter projects, and other sources, the average player can become overwhelmed. It's not easy to stay up-to-date and follow (let alone play) every game.
That's why there exist pages like victoryconditions.com (and many others). There's no chance I can play (or even briefly cover) every game that is out there. That has never been my goal. Just like you, I have a limited amount of time and resources.
But what I can do, is give you my honest opinion on the small part of the spectrum of board games that I look into. And if that helps you pick a game that you will like, then my mission is complete.
Conclusion
The board games sector is experiencing unseen growth and it does not look like it's stopping any time soon.
With the ever-increasing number of board games, it's sometimes hard to keep track of what is what. Pages like victoryconditions.com are there to be your guide in a world of board games. As an example, I make top games lists like Which are the Top 10 Most Popular Board Games? or reviews like Mage Knight Ultimate Edition Review.
Do you think the economy behind board games is sustainable? How long do you expect the growth to continue? Leave a comment below.
Vasilij