In order to understand what makes a board game fun to play, we must first look at some fundamentals. Why there are some that we play once or twice and then never look at again and why do we keep coming back to those all-time classics? What is a board game? What is it made of?
Definition of a Board Game
By definition, a board game is any game that is played on a board. A board here is quite a broad term: strictly it means a playing board, but it could also mean various other physical objects, even a table. It's played against (or with)  human opponents who are positioned around the board. (There are solo board games also available these days, of course.)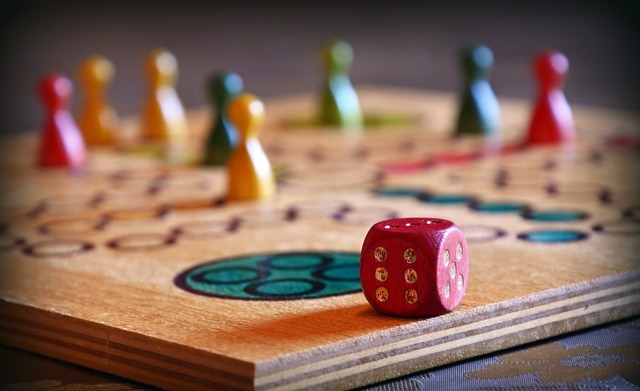 Building Blocks of a Board Game
Different elements form a board game. Let's name them.
Theme and Setting
These are fundamental in a board game and they go hand in hand as they affect each other greatly. A theme is simply a skin of a game and the concept means what the game is about.
The ideas here are endless and authors are trying to come up with new ones all the time: animals are a popular theme (you build a zoo in Ark Nova), as well as farming (Clans of Caledonia, for example) or historic (Obsession is set in the Victorian era).
The important thing here is that the theme and concept complement each other and make sense together so that the game mechanics make thematic sense. This makes the game much more intuitive and easy to learn.
Game Mechanics
This is a further development of the concept and it defines in detail how the board game is going to be played: the starting situation, distribution of goods among players, who goes next, what happens in a turn, what is and what is not allowed, and in the end, what the victory conditions are.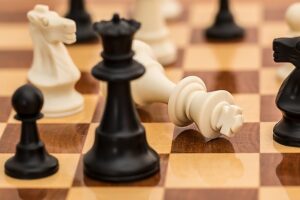 In modern board gaming, there are numerous game mechanics that are popular, and more complex games try to utilize several of them, working side by side:
worker placement,
deck building,
set collecting,
card drafting,
dice drafting/placement,
push your luck,
social deduction,
bluffing,
action points, ant others.
Influence of Chance
This element is built in with the basic concepts and game mechanics. The majority of board games depend (some more, some less) on the random factor. It makes the game more unpredictable, exciting, and alluring to beginner players as it gives them an illusion that they can beat the good players.
Luck can be implemented in different ways. The most popular are rolling the dice(s) when determining various outcomes and drawing cards when a player receives new stuff. Other board games only randomize starting settings, like board/terrain or resource distribution.
As a general rule, you want a moderate amount of chance influencing a board game. Just so that it brings some freshness but at the same time does not cause chaos.
Social Aspect
Other people are one of the main reasons we play board games: to have fun together.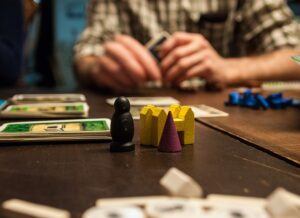 Board games do that in different ways: encouraging players to cooperate to achieve mutual goals, competing for resources, cards, money, or territory, trading resources, bargaining, buying and selling property, fight over valuables. Some even encourage backstabbing (fortunately not literally), ridiculing each other, and using other dirty tricks on the path to victory.
How the players interact with each other is a very important element of a board game and is often neglected in modern game design, which often focuses on game mechanics and puzzle solving.
A deep socializing element can heavily influence how the games play out and can even replace some element of luck – games use different characters of the players to bring variety into gameplay instead of luck. Moreover, even a simple game can reach great depths when you start taking psychology into account.
Physical Elements of a Board Game
Last but not least, we have the physical components: the board, figures, dice, cards, instructions, the box, and other stuff. How these elements look like, is heavily influenced by the theme of the board game and artistic style. Quality natural materials such as wood, metal, and paper are usually favored by players over plastic (although the Kickstarter miniature cult is as strong as ever).
This element does not influence gameplay much, but it's the face of a board game. This is what customers will see first and often it's that first impression that is crucial in the buying process. That's why game designers put a lot of emphasis on this element (sometimes forgetting about others in the process) and board games these days look very attractive.
Conclusion
All the above elements blend in a mixture and form a board game. It's the combination of all the elements and how they affect each other that makes a board game good or fun. Or contrary – bad.
What Makes Board Games Fun (5 Reasons)
Manufacturers will often focus marketing around elements they think are good and ignore those they failed with. That's why we have to look at the whole picture when dealing (reviewing, buying, playing) with board games and not judge them just by the cover.