In this article, you can read my review of Carcassonne, a gateway tile-placement board game. What is Carcassonne, how does it play, and do I recommend it?
Introduction Carcassonne – Board Game Review
I've always been fascinated by maps. As a kid, I would browse the world atlas just for fun, checking out the layouts of cities and the countryside and cursing the authors for not selecting more city maps or enlarging certain parts of the map that I was more interested in.
It is therefore not a surprise, that map-based or tile-placement games (computer games or board games) have a special place in my heart.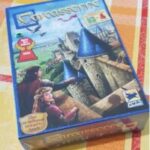 Unboxing
There aren't really that many different components in the
box
: besides instructions you have the tiles, you have your figures (Meeples as they are called), and a scoring board. Decent quantity though: over 80 tiles and over 40 meeples, so there is plenty of building material available.
Carcassonne – First Impressions
Everything in the box scents of quality and style. Meeples are made of wood and are very distinctly shaped. The tiles are of course cardboard, but the artistic style on them … I cannot praise it enough. The images on them are brilliant and not two of them are the same. Attention to detail is high: a village here, a garden over there, just a couple of random trees by the road, the winding roads, the farms …
The tiles look impressive on themselves, but when you start putting them together and building a landscape, it all goes a notch or two higher. Combined, the tiles form an amazingly looking picturesque medieval world.
I couldn't help myself and imagine how it would be to walk the roads, see the bustling cities, or just lie in the shade of the trees in the nearby garden. Compiling this landscape is one of the key selling points of Carcassonne. You don't even have to play the game, you can just take the tiles and try to build an impressive map.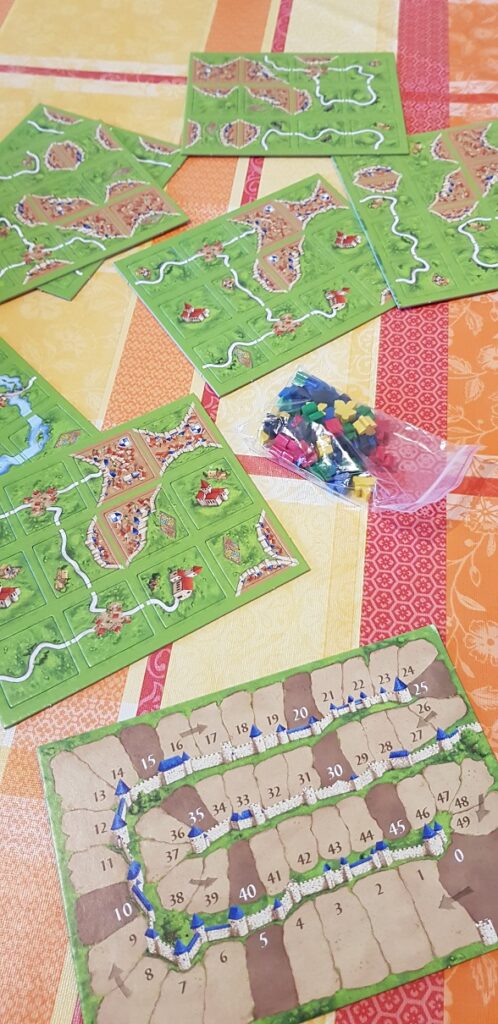 Basics of Gameplay
Carcassonne does not have very complicated game mechanics, especially the base game. Players draw tiles and place them next to existing ones so that the pictures on them match and they form a landscape full of features: cities, roads, fields, and monasteries.
Tile tiles are drawn one by one. As players place them they have the option to put their meeple figure on any of the features on that tile: when that feature is completed (a road, a city, or a monastery), they receive victory points and get their meeple back.
Meeples on the fields are calculated when the game is finished and are therefore a long-term investment. The scoring system seems pretty complicated at first, but you soon get a grasp on it and realize it's very straightforward and easy to understand. In the end, the player with the most victory points wins the game.
There is of course plenty of strategies involved when placing the tiles: trying to build features for yourself and trying to obstruct other players. Managing your meeples is another important aspect: how many will you commit to fields and how many will you keep in reserve? Investing in fields is crucial for scoring big at the end game. Predicting how the game will pan out and which fields will be the most profitable needs both skill and a bit of luck.
Luck also plays a part when you draw a new tile. Will you get the one you need? Fortunately, each tile can be placed in various ways, so there are usually plenty of options available.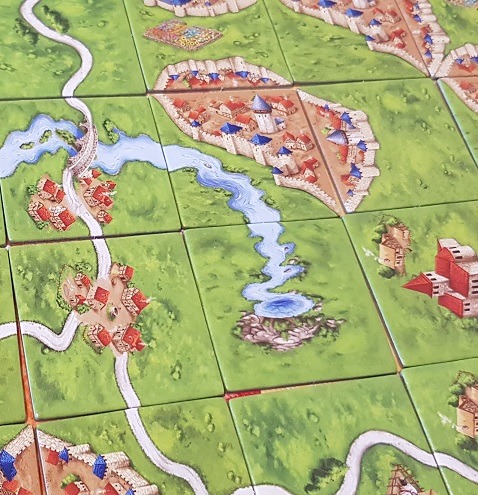 Carcassonne Expansions
The base game is only the tip of the iceberg. Carcassonne so far received 10 major expansions, 13 smaller expansions, and 7 stand-alone mini-expansions. Expansions are often available together in compilation boxes. So, if you get immersed in this game, there is no fear of running out of novelty any time soon.
Did you know Carcassonne is still on the list of most popular board games?
Below are all the expansions listed chronologically, just for orientation and to see how many of them there are. Instead of buying them one by one, I suggest you look out for Compilation boxes, which include a number (of thematically related) expansions in a package.
Full expansions:
Inns and Cathedrals
Traders and Builders
The Princess and the Dragon
The Tower
Abbey and Mayor
Count, King & Robber
The Catapult
Bridges, Castles & Bazaars
Hills & Sheep
Under the Big Top
Mini expansions:
The River
King and Scout
The Cathars
The Count of Carcassonne
The River II
The Mini-Expansion
The Cult
Tunnel
Crop Circles
The Plague
The School
The Festival
The Phantom
The Watchtower
The Markets of Leipzig
The Fruit-bearing Trees
Carcassonne Minis: The Flying Machines, The Messengers, The Ferries, The Gold Mines, Mage & Witch, The Robbers, Corn Circles II

Carcassone Universe
Since the game is so successful, several games were published as spin-offs. These share similar game mechanics or themes:
Carcassonne: Hunters and Gatherers
The Ark of the Covenant
Carcassonne: The Castle
Carcassonne: The City
Carcassonne: The Discovery
New World: A Carcassonne Game
My First Carcassonne
Cardcassonne
Carcassonne: The Dice Game
Carcassonne: Winter Edition
Carcassonne: South Seas
Carcassonne: Gold Rush
Carcassonne: Over Hill and Dale
Carcassonne: Star Wars
Carcassonne: Amazonas
Carcassonne: Safari
If anyone asks you have you ever played Carcassone, there is no simple yes or no, but rather a counter-question: which one? Oh, have I mentioned video game versions? 🙂
(All of the above lists were created with a lot of help from Wikipedia.)
Conclusion
Carcassonne is an excellent way to get into board gaming. You can teach it to anyone in a matter of minutes (you might want to ignore farmers for the first game), and even your non-gamer friends will enjoy building cities and roads. The base game is alright to start out, but it will sooner or later run out of steam. Luckily, expansions are there to carry you forward, introducing many interesting game mechanics, tiles, and pieces.
For an experienced board gamer, Carcassonne might be of limited value long-term, but even they will appreciate the elegance, simplicity, and enjoy playing it occasionally.
You can play Carcassone online at AsoBrain.
Read about Isle of Skye, another tile placement board game
What are your thoughts on Carcassonne? Which expansions and spin-offs have you played and which are your favorite?