I have been browsing the internet, trying to find a site to play Settlers of Catan online for free.
I was quite particular in my search. The following criteria were important in the review:
It does not have to be originally licensed.
Easy pick-up and play. The site would have to be very easy to get into a game. That means in-browser-play (no downloads), no extra plug-ins required, a very simple and quick register system, and a quick-to-join lobby system. If I want a game of Catan, then I have to be able to get one in a minute.
Free to play. No subscriptions or in-game purchases. Hopefully no (invasive) advertising.
Bots are not necessary but are a plus.
The user interface must be simple but powerful: building and trading have to be done with minimum effort, and the chat window is a must.
The connection must be stable.
Graphics have to offer a good overview of the board, other players' cards, resources still left, etc. If they are visually stunning on top of that, that is a plus.
I was looking for the base game. Any additional scenarios and expansions are a plus.
Colonist.io in general
Colonist.io is a browser game based on Settlers of Catan. It does not have an official license, but all the rules are implemented properly. The page itself is very simple and basic. It's just a lobby with some advertisements on the sides.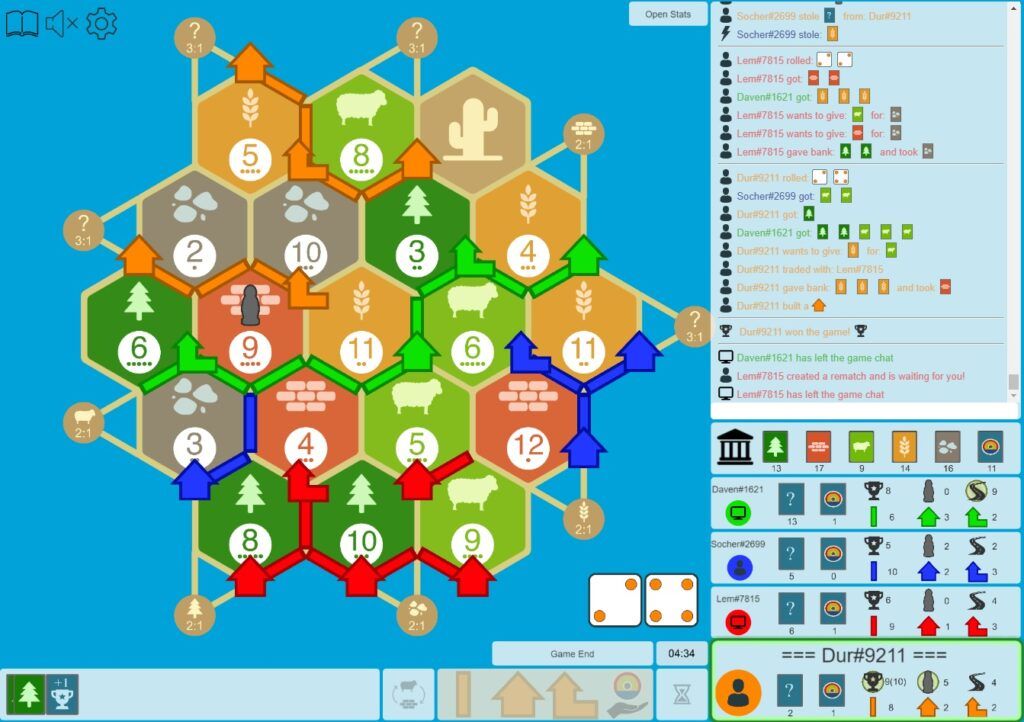 Positives
It is extremely easy to get into a game. First of all, registration isn't necessary – the client will give you a placeholder username so that you can play right away. You can register and create an account if you wish.
In the lobby, you have a couple of options:
quick join against bots,
you can join a lobby with other players or
create your own.
Bots are a very good tool to practice. They offer a moderate challenge, but most of all – games against them can be (if you select a fast game option) super quick to finish. Bots' turns are done rapidly and you can take all the time in the world for yours. That way you can finish a full game in under 15 minutes – a similar game in real life would take up to two hours.
Games against other players usually last about half an hour – still a lot shorter than a real board game. That is due to the computer making all the transactions, thus the players can focus solely on their game. It also means you have to wait a lot less for others to finish their turns.
The user interface has everything where you expect it to be: on the bottom center, you see your resource cards and build & trade options. On the bottom right is the status of the game and other players: how many resource cards are left, the number of resource cards per player, victory points, knights, roads, and buildings.
Above that is a chat window that also logs all previous actions.
Trading is very simple: just select the resource you want to give and receive and post your offer. Other players then have a few moments to respond. When you have sufficient resources for a certain building, that icon will light up.
All this is completely free: the game does not bother you with any pop-ups or ads, the only ads you will ever see are those beside the main lobby window.
The site is still under development and patches do come out regularly, so that's good to see.
Negatives
Art and graphics are very simplistic and minimalistic. Over the years, they have developed their looks constantly.
The base game is free to play, but expansions can be bought for real money. They also promise additional features like skins and player profile pictures. The prices start at $9 for a starter pack and up to $99 for the complete pack. My recommendation is that you do not pre-buy these expansions, at least for now, and stay with the base game.
You can join lobbies with expansions even if you don't have them so that you can try them out and see if they are worth the money.
Bots are great, but once you get the hang of the game, they don't offer enough of a challenge. They are a bit too eager to trade and they occasionally build roads and settlements in places that make no sense. An option for a harder AI level would be appreciated.
I have had some random disconnect issues and other players claimed the same. Fortunately it usually only takes a browser tab refresh to reconnect, but it can be a bit annoying when a player starts the game and a bot takes over in the middle.
Colonist.io in 2021
As you can see in the image below, the game has progressed a lot since 2019. It now looks absolutely stunning. The gameplay itself remains smooth, fast, and robust. I recommend the site even more.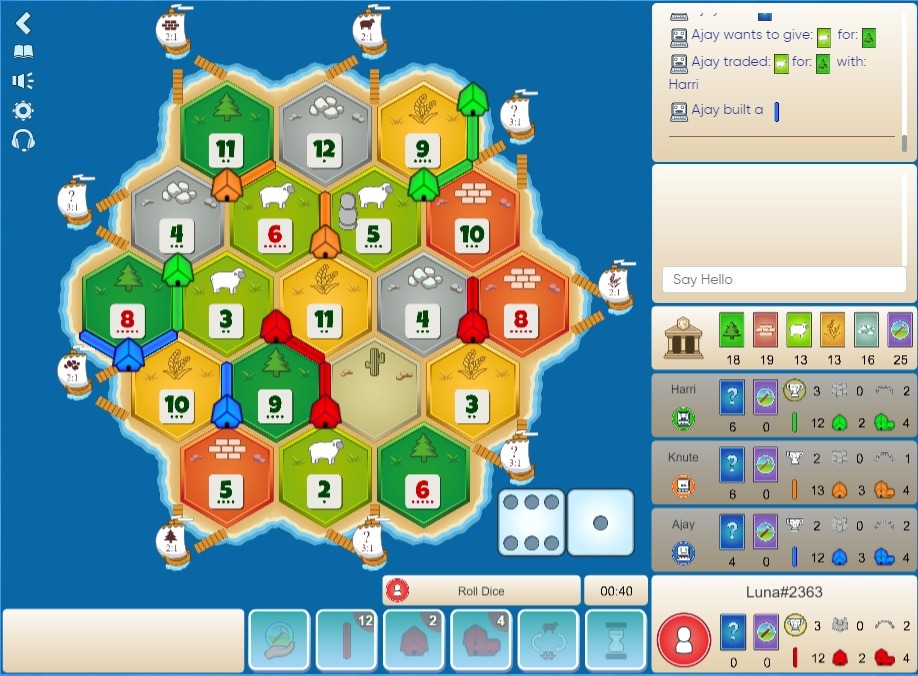 Verdict
As you can see, there are quite a few more positives and negatives and the positives outweigh the negatives. This is a great page to play Catan against other players or to get a quick fix against bots. I would give this an 8/10 and it's definitely worth checking out. As you can see the site is moving forward, ever-improving.
If you have any experience with Colonist.io or you recommend another page, I would love to read about it in the comments.
Disclaimer: I am in no way or form affiliated with Colonist.io, but if they wish to donate me any money, I'm willing to negotiate the offer. 😀