Below you can read my Mysterium Board Game Review. It's one of the most popular deduction group games. Find out what makes it special and why I recommend it.
Introduction to Mysterium Board Game Review
Designers: Oleksandr Nevskiy, Oleg Sidorenko
Year published: 2015
Players: 2-7, best with 5-6
Playing time: 45 minutes
Complexity: light/medium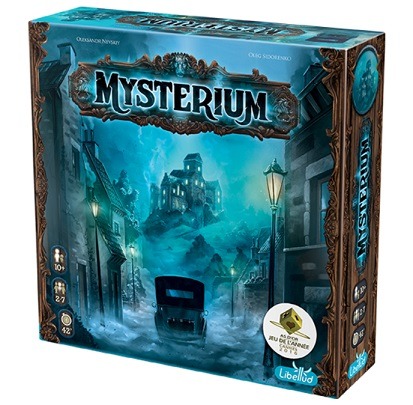 Theme and Setting of Mysterium
After several mysterious murders occurred in Warwick County, Mr. Conrad MacDowell, a talented astrologer, was called in for help. He detected the presence of a supernatural being, a ghost of the deceased. Quickly he gathered his friends, also mediums, and they tried to communicate with the ghost.
Soon they learned that with a little help from the ghost and their own brilliant psychic wits, they can find out who take killer is. The ghost is trying to communicate with them, but he is very weak and has trouble communicating – in fact, he has trouble even remembering the tragic evening. Will you be able to help him and solve the mystery of his murder?
Mysterium is an asymmetric cooperative team game. One of the player plays as a ghost of a murdered man, while other players play as mediums, communicating with him. The objective of the game is to find the victim's killer, his weapon, and the location of the murder so that the ghost can rest in peace.
As we said, the ghost cannot speak directly, he can only give out clues (cards) to players. In a series of rounds, players try to put together the clues, and if, in the end, the majority guesses correctly, the ghost is saved.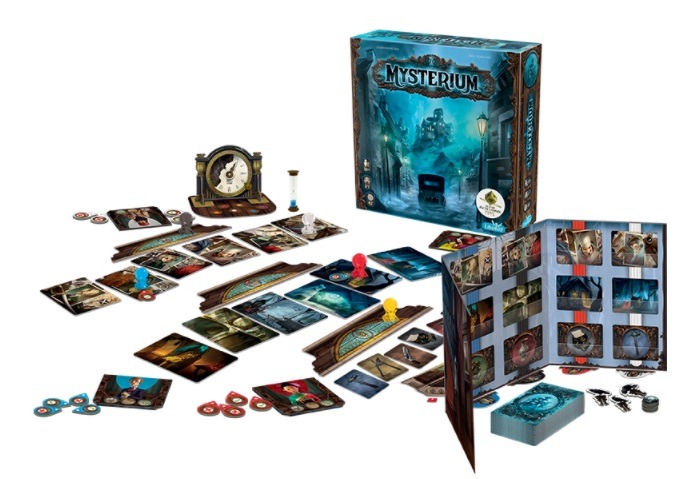 Art and Components
The main thing that stands in Mysterium is the artwork on the cards, especially vision cards. I can say without too much exaggeration that they are a piece of art. The style is abstract, grotesque even, and it plays with the overall spirit of the game perfectly. The images are full of details, objects, and colors, giving players a lot of options when making connections.
The other cards follow this style, with various direct, indirect, or abstract connections between them.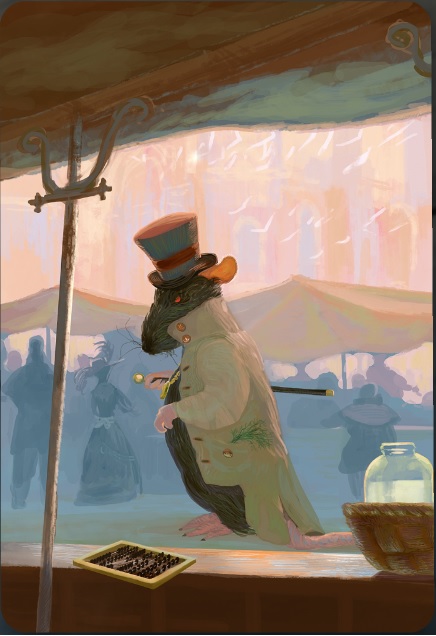 Game Mechanics
After the game is set up, each player must first find his combination of a suspect, location, and murder weapon – in this order. When they find the first, they can progress by guessing the second and the third. Players can advance through stages independently – you can already have all three things figured out, while a co-player might still be stuck at the suspect.
Usually, the players are quite close – should someone lag behind, the others will help him out by discussing. As well as the ghost. It's a team game, after all.
Only when all the players have their suspects, locations, and weapons in lockdown, will the ghost decide on which combination will be the culprit. He'll do that consulting with his hand of cards because he must now choose three, that will depict the final combination the best. If the majority of players guess successfully, everyone wins.
Abstract illustrations with many possible interpretations
The cards are filled with different illustrations, often very abstract. They can be interpreted in different ways and knowing your fellow players and how they will interpret something is key. No talking from the ghost is allowed. The players can (and must) talk and discuss between them, of course.
Mysterium is remarkably replayable. Not only are there a lot of different cards and the solution is different every time, but different players will also play with different interpretations and analogies. You'll want to get into the ghost's head and understand his way of thinking to understand what he's trying to tell you with visions.
Some ghosts will focus on small details, i.e. a rat on the vision card will point to a location containing a rat, while others will use a general setting of a vision – like nature and branches or just a prevalent color of the card. If the cards in the ghost's hand are no good, he can discard them three times (or less, depending on the difficulty).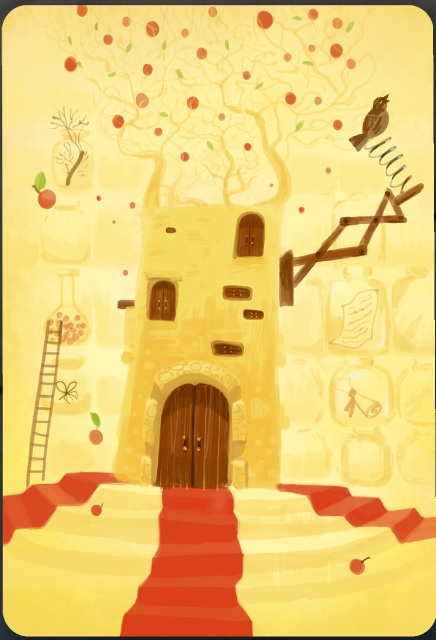 Not to mention that everyone wants to play as the ghost eventually. This fact alone makes sure you'll never play just one game. The ghost has the most direct influence on the quality of the game (and also the enjoyment of other players). It's a responsible job, but also the one that makes every game unique.
For the optimal experience, the game requires more players than usual. Four (3+1) is the absolute minimum, 5 or 6 seems to work best.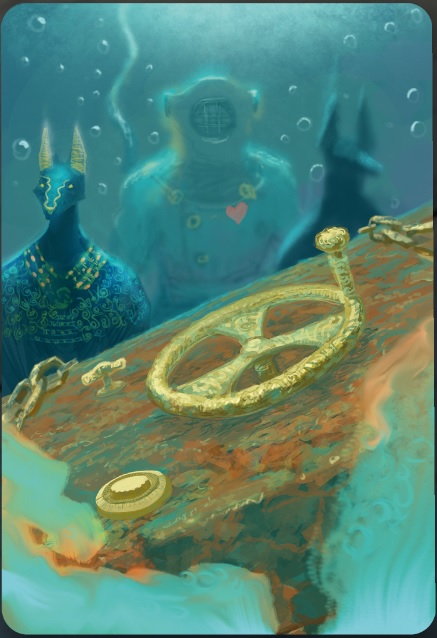 Editions and Expansions
Tajemnicze Domostwo (2013) is the original title of the game when it was first released. If you come across it, you can buy it without hesitation, as the gameplay is text-free and completely language-independent. The artwork is mainly the same, only the production level is a bit lower.
Mysterium Park (2020) is a sequel released at the end of 2020. It comes with a new setting (circus), together with artwork. The game mechanics are also streamlined – simplified with a shorter set-up.
You're now looking for just two things (suspect and location), which makes the games shorter.
Two larger expansions for Mysterium have been released:
Mysterium: Hidden Signs (2016)
Mysterium: Secrets & Lies (2017)
They introduce new characters, locations, items, and story cards. On top of these, several smaller packs or promo packs of story cards have been released. The expansions are a worthy investment that increases the longevity and variety of gameplay. For example, Secrets & Lies ditches the search for a murder weapon and introduces the search for the "story of the murder".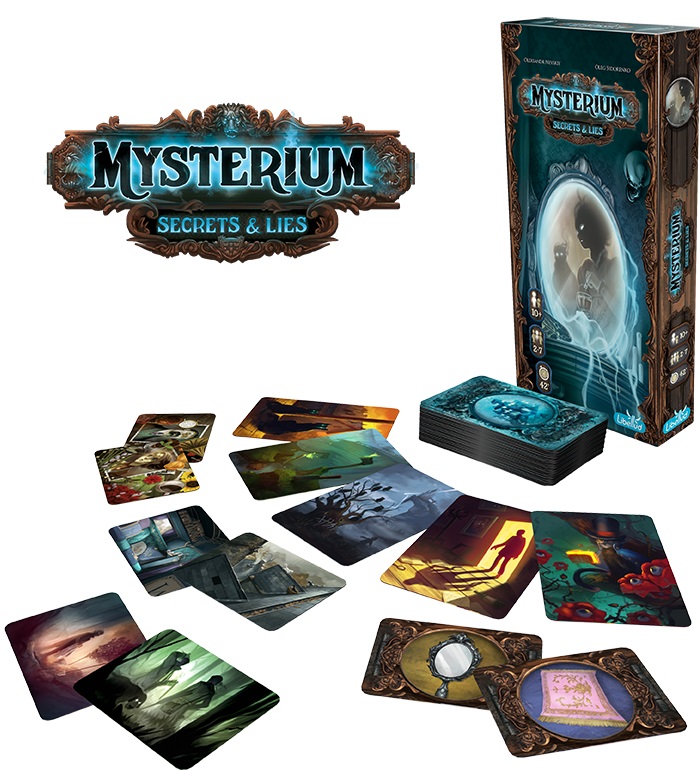 Digital Edition on Steam
Mysterium is one of Asmodee Digital's games on Steam. That means top-production levels: great graphics and interface, guaranteeing smooth and immersive gameplay.
All this is true for Mysterium. It's fully ported, together with both expansions (available as paid DLC). There are even promo cards you can earn in-game.
Although you can play the story mode or single games against bots, I didn't enjoy that part. I couldn't buy the fact that an algorithm is trying to give me hints or interpreting my hints. Mysterium is a game of subjective interpretation, not math formulas, so no AI can do it justice.
Online play, on the other hand, is magnificent. There is a small, yet active community, so getting into a game is no trouble. The interface works great: your visions and other players' visions are quickly reachable, and you can give each other hints by clicking on the cards, chatting, and so on. It's not like sitting behind the same table, but it's the next best thing.
The ghost, of course, is muted. This works even better as in real life, as he's completely unable to give out any unwanted clues.
The Digital Edition of Mysterium is worth every penny, especially since it's ridiculously cheap, especially if you wait for a sale. It's great for trying out the game before you buy the physical version. But even if you don't, it's still a strong game on its own.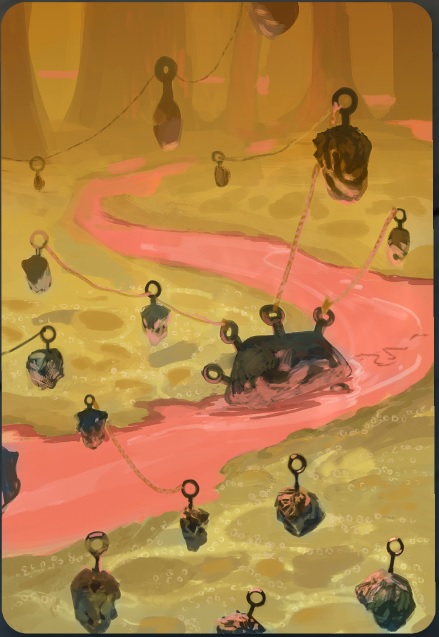 The Good
A unique idea of cooperative image interpretation.
Very accessible and appealing – perfect for families.
The artwork on the cards is unforgettable.
Playing as a ghost, guiding other players, offers a very different and interesting challenge.
The Bad
Doesn't work well with low player numbers.
Conclusion
If you're looking for something different and you often play in larger groups or have a large family, Mysterium is a perfect choice. It combines abstract-art clues with cooperative play into one of the most remarkable murder mystery board gaming experiences. I recommend it very much.
It's one of those games that can entertain everybody. Young and old, novice and hard-core board gamers.
---
Further Reading:
---
I am a member of the Amazon Associates program and will earn a commission if you buy something after clicking on the link above.