Who am I?
I've been playing board games since I was a kid. I still remember playing pachisi with my family at a very young age, in elementary school I got into chess, all sorts of card games (local games such as Tarok or Schnapsen).
Later on other games followed. Games like Monopoly, Catan, Scrabble, Risk.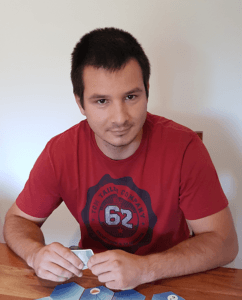 I was in college at the time the poker boom hit us in the mid 2000s and I immediately became hooked. I started playing for penny stakes with friends, but quickly moved online. I deposited 50$ and, as they say, the rest is history – couple of years later I was earning a steady profit playing no limit 100 and 200.
Eventually I stopped playing (for various personal and professional reasons – I won't bore you with details here), got a real job, and board games were again just a hobby for me instead of work.
I am a very competitive person. When I play a game, not only do I like to have fun, most of all I want to win. Whenever me and my friend discovered a new game, I was the first to go online to look for strategy guides and studies.
It was online poker, when I really got to the next level with studying the game. I was reading books and articles about strategy, psychology, game theory, probability theory and mathematics. All for one goal – to maximize my every decision to yield maximum profit in the long run.
It was with this knowledge that I realized that this decision-making process applies to all games – even in a simple game like pachisi you have choices. And wherever you have a choice, there will always be better choices and worse choices. It is true that in a simple game dominated by chance these choices don't matter that much, but in a more complex game like Catan, it really comes down to who makes better choices – therefore is a better player.
The more choices (or strategy) there is available in a game, the more the good player can shine.
All the best,
Vasilij,
victoryconditions.com