In this review, you can learn about the Laserox insert for Mage Knight Ultimate Edition. Is it the ultimate upgrade for the popular heavy board game?
Introduction to of Laserox insert for Mage Knight Ultimate Edition Review
A while ago, I reviewed one of the custom inserts for Mage Knight. It performed admirably, although it wasn't without faults. During the research for that article, I've learned about the alternatives and I was immediately curious what their approach to storing many cards, tokens, and miniatures of Mage Knight is, how's the quality of engineering and manufacturing, and so on. But you can only learn so much from online research. It's best to have the object in front of you.
Therefore, I've promptly contacted the alternative manufacturers, including Laserox whether they'd be interested in providing a review copy. Testing out more products makes all the reviews more credible, which in the end benefits all of us. Yes, you too. Laserox insert is not cheap and it's my goal to give you all the information possible so that you can make a decision whether you should buy it.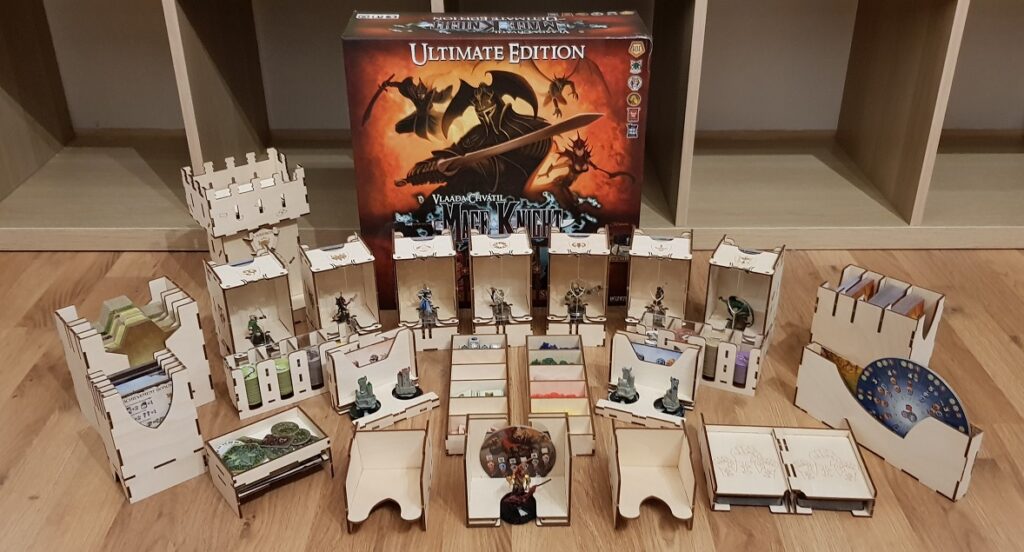 What Is The Best Way To Learn Mage Knight?
Why Is Mage Knight So Good? (3 Reasons)
---
Who are Laserox?
Laserox are a Hungary-based company that specializes in making inserts for board games. Their material of choice is wood, more specifically birch plywood (for their premium line), and being "green" is a big part of their business.
Their inserts have a reputation for great visual appearance and highly-engineered functionality. The end product does show they are board gamers at heart. Of course, all these qualities are reflected in the final price of the product.
Expectations
Considering what I was able to see on their website, I've had extremely high expectations about the Laserox insert. It looks absolutely fabulous on the images, it has display boxes for miniatures, there's a large and detailed dice tower, trays for cards, tokens, and so on. And it fits into the Ultimate Edition perfectly. (it doesn't fit in the vanilla box, btw)
So how is the Laserox insert? I take a look at the assembly process, evaluate engineering and artistic aspects, and test it out during the gameplay.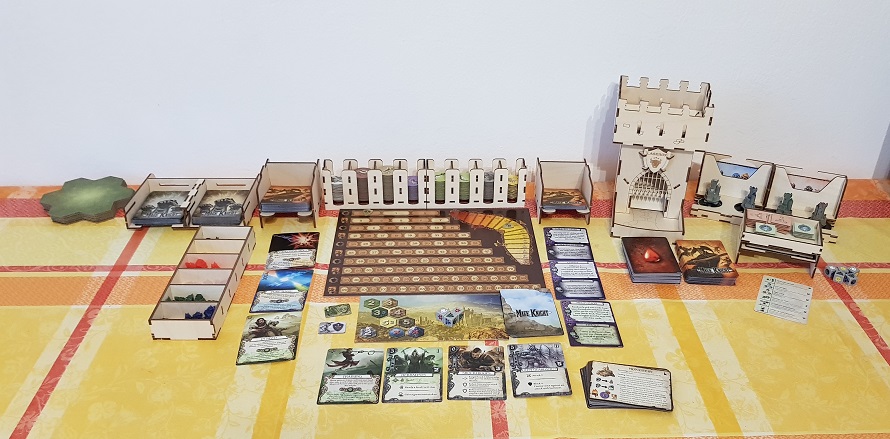 Unboxing
The first thing you notice is the sheer volume of wood you get here. There are 20 A4-sized and 1 A5-sized wooden sheets included, plus a Plexi sheet. It's pretty obvious the assembly is not a one-time job, but a project that will probably take you a while. It took me almost a week of casual work, and I estimate it took a total of 6 hours.
The assembly guide is solid and easy to follow, although some of the images are obviously from an older version of the insert and could use an update.
Assembly
You'll need some basic tools: an Exacto knife, glue, and a small hammer. The knife is used to smoothen the edges once you take the parts out of their sheets, then apply the glue and stick them together. The parts are a surprisingly tight fit.
Although the assembly guide suggests you should dry-fit the parts before applying glue, I wouldn't go that far. Yes, make sure you have the right parts and how they go together, but don't do the actual assembly. Once they are assembled, they're really hard time to take apart.
It's best to make sure you've got the right pieces in the right slots, then apply the glue. Not much glue is needed since the parts stick together even without it.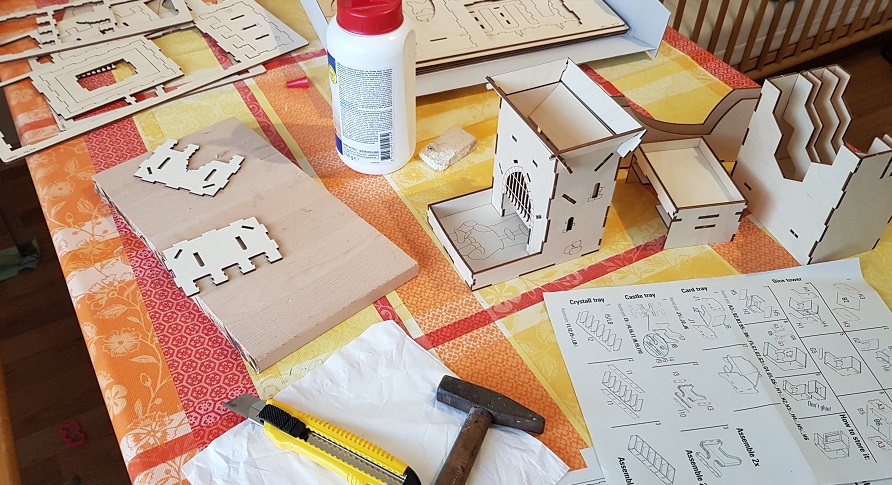 Moreover, they fit together so tightly, that you need a hammer and apply a decent amount of force to make sure all the edges are in. While I was surprised by the tight fit and not at all enthusiastic about hitting the beautifully crafted wood pieces with brute force, in the end, it proved a good design choice. The wood is relatively durable and I haven't done any damage to it (you need to be careful, of course).
The end result, with all the edges tightly fitted, looks amazing and it's well worth the extra care and attention at assembly. If you wish to paint the creation, I suggest doing it after the assembly, or you'll have a hard time fitting it together (yes, it's that tight). Although it doesn't really need painting, both esthetically and durability-wise.
Bottom line, I'd rate the assembly difficulty as a medium. Nothing insurmountable for a seasoned hobbyist.
---
Storage
Obviously, there's a dedicated slot for every component. Since the Ultimate Edition box is so large, everything fits quite comfortably. In a couple of trays, there's even room for extra components (not that the game needs another expansion).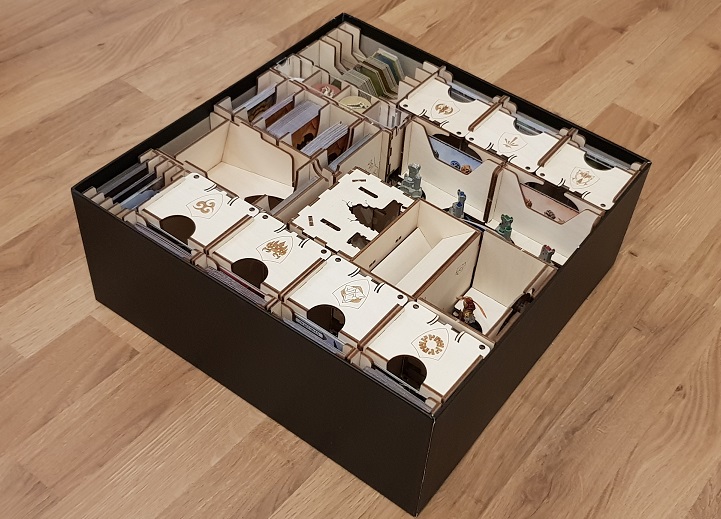 All the trays gel together like a perfect 3D jigsaw and fill every cubic inch of space, holding themselves firmly in position. This means you can store the box vertically without any worries about the inside getting mixed up. Even the fame board has a dedicated slot above everything, yet still slightly reclined. They really did a lot of engineering with this.
Every character gets his/her own display box, along with a tray for tokens, skills, and cards. Let's say you decide you want to play as Krang. All you need is his tray and everything is there in one place. Convenient. It's a similar story with map tiles and cards. For the latter, all the trays are quite spatial – enough if you sleeve your cards.
---
Functionality during gameplay
For the gameplay itself, you should move the advanced action and spell decks out of the holders to the provided trays, which makes them more accessible. The unit storage tray, on the other hand, transforms to the play tray with an ingenious lever-like solution. The only two things missing are designated play trays for wound cards and artifacts. But since these are not often used, I didn't find that problematic.
The most useful pieces are the two enemy token trays. Enemy tokens are the clumsiest component in all of Mage Knight, and having a solution for them drastically improves the game's enjoyment. Laserox's trays are near perfect. Tokens fit them just with the right amount of spacing, making it easy to take them out. They're cut out on the sides for easy reach and have a Plexi lid to make sure they stay where they have to during storage.
But my favorite piece is the dice tower. It looks amazing and using it is so satisfying. I know what you're thinking because I thought the same thing at first. A dice tower for a game where you roll one die every fifteen minutes? And not just any dice tower – a detailed, over-the-top piece of art. Is it really necessary?
Well, it isn't, but that's not the point. With Laserox, you're not just buying functionality. You're buying a premium product that will enhance your game to a collectible. And with that in mind, accessories such as the dice tower and display boxes for the minis are justified. It's what will make people go "wow".
Unfortunately, the dice tower is made with the Mage Knight's small dice in mind. If you want to use it with another game, it probably won't be suitable. (I tested the dice from Ganz Schön Clever and they were too large and occasionally got stuck inside.)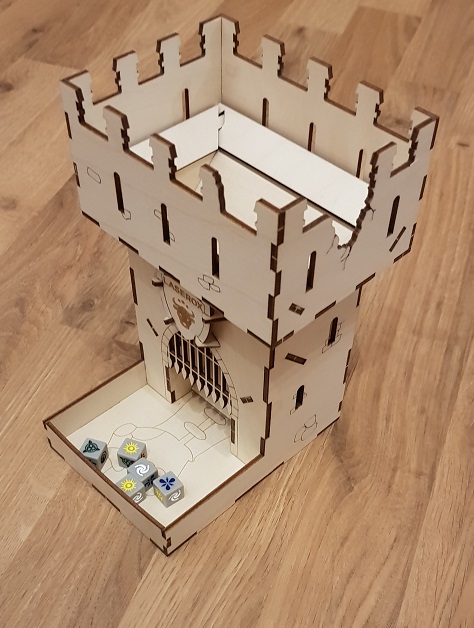 ---
Alternatives
Of course, Laserox is not the only company that offers inserts for board games. There are alternatives you can check out:
The Dicetroyers is the most comparable to Laserox, in design, price, and material used. It is developed for the Ultimate Edition box and also has trays that fully stabilize miniatures.
I've written about Folded Space in a previous article. If you're looking for a cheap insert that's all about functionality, it's a good solution.
The Broken Token uses wood, but when it comes to functionality, is similar to Folded Space.  Like Folded Space, it also fits into the smaller base game box.
Conclusion
Mage Knight Ultimate Edition is quite playable with its default plastic insert. But that one is rather far from ideal and for most hobbyists, it will only be a temporary solution. Sooner or later you'll start looking for a different solution, may that be a DIY or aftermarket. From what I've experienced, Laserox is quite firmly at the sharp end of what you can get. If you're looking for an ultimate Upgrade for your Mage Knight Ultimate Edition, you can buy the insert directly from Laserox website.
A review copy of the insert was provided by Laserox
---
Like what you see? Consider subscribing: