This article teaches about Carcassonne with expansions, specifically the first two expansions. The second part is about how the Carcassonne gameplay is executed online on AsoBrain.
This is a follow-up on two of my previous article, the one about Introduction to Carcassonne and the review on AsoBrain: Xplorers. I'll be looking into the first two expansions, as those are the ones that are available on AsoBrain.
Inns & Cathedrals
Sometimes simply known as The Expansion, this was released in 2002 and is the first of many expansions. It brings three new elements to the gameplay:
A large follower counts for two points when determining which player scores points for a feature. He comes very handily when contesting cities, roads, or pastures with other players. When the feature is completed, he scores the same points as a normal meeple, not double, though. So, he's just about contesting for features (maybe use him for that big city you plan to build).
Special Inns tiles. These are road tiles with an inn pictured by a lake. Inns double the points of a completed road. If the road, however, is not completed, the player gets no points for that road at the end of the game. It's an element that makes road building a bit more attractive and adds a layer of risk to it.
Special Cathedral tiles are part of city tiles. A cathedral adds one point to each of the city tiles. Like an inn, a city with a cathedral will score no points at the end of the game if it's not completed. Again, another layer of strategy added to the game.
Traders & Builders
Just a year later, the second expansion was released, again with three new elements making an appearance:
The Pig follower. The pig can be placed alongside one of your farmers and increases the number of points you get from each city on that pasture by one. You must have the most followers on that pasture for that to come into effect, of course. The Pig, however, does not count towards this.
The Builder follower. This one is particularly interesting (my favorite feature of the two expansions) as he allows you to draw a second tile in a turn. You can place him on a city or a road on which you already have a follower.

Then, each time you add to that feature (extend that road or that city), you get a free tile (maximum one per turn). When the feature is completed, the builder is returned to you, ready to be used again. As the pig, the builder does not count towards the number of followers in a feature.
Trade goods. Some city tiles will have an icon of cloth, wheat, or wine on them. When such a city is completed, they are collected by the player completing it (not by a player scoring the city). The idea behind this is to encourage players to finish cities. The Player receives tokens for the goods collected, which are scored at the end of the game.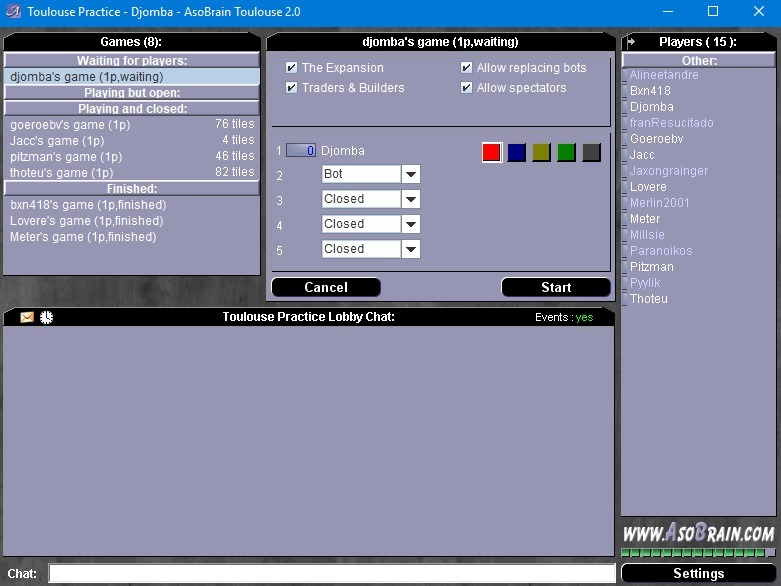 Toulouse at AsoBrain.com
I assume you are familiar with AsoBrain by now. If not, read my previous article. On AsoBrain, Carcassonne is called Toulouse. You are using the same account as for Xplorers, only the client is different (still Java-based). Ranked and Practice servers are available with Tournaments available occasionally (rarely rather).
You can join an existing game (although a bit harder to find as on the Xplorers' client) or create a new one. There are options to play the base game, including Inns & Cathedral (simply called The Expansion), Traders & Builders, or both.
No other expansions are available (not even The River mini-expansion, which is by default now a part of the base game in the tabletop edition), which is a big shame. It would be great if the game would receive some love and development, as there are a lot of expansions for Carcassonne available.
Bots are on the weak side
Bots are readily available, but for the skilled player, they are a bit weak. They don't focus on the pastures enough. You can increase the challenge a bit by adding more of them. That makes your influence on the board smaller and makes the game more even. Robots do act fast and are an ideal spare partner for a quick game. One can be finished in 5 minutes.
Humans pose more of a threat, but the game is still smooth and fast. Most of them know what they are doing, since this a very niche online board game, therefore mainly good players play it. Expect more of a challenge here.
The user interface is simple: left click to select a tile, right-click to rotate it, then left-click to place it. Color around the tile will tell you if it's legal to place it. After that, you have the option to place a follower. Very fast and effective, without unnecessary complications.

A regular and large follower on Toulouse should be a bit more distinct.
Visuals are functional but not much more than that. For example, the tabletop version is really stunning compared to this. Pastures are just one big green plain without any textures or details. Zooming out is done automatically as the board gets larger.
A nice feature is the ability to hover your mouse over a pasture and it will show the exact boundaries of it and how many followers each player has on it. It works similarly for roads and cities.
This is also a great training tool, as understanding the borders of pastures is something new players struggle with the most in Carcassonne.
Of course, the computer takes over all the scoring calculations, so that's one time-consuming element of the game taken care of.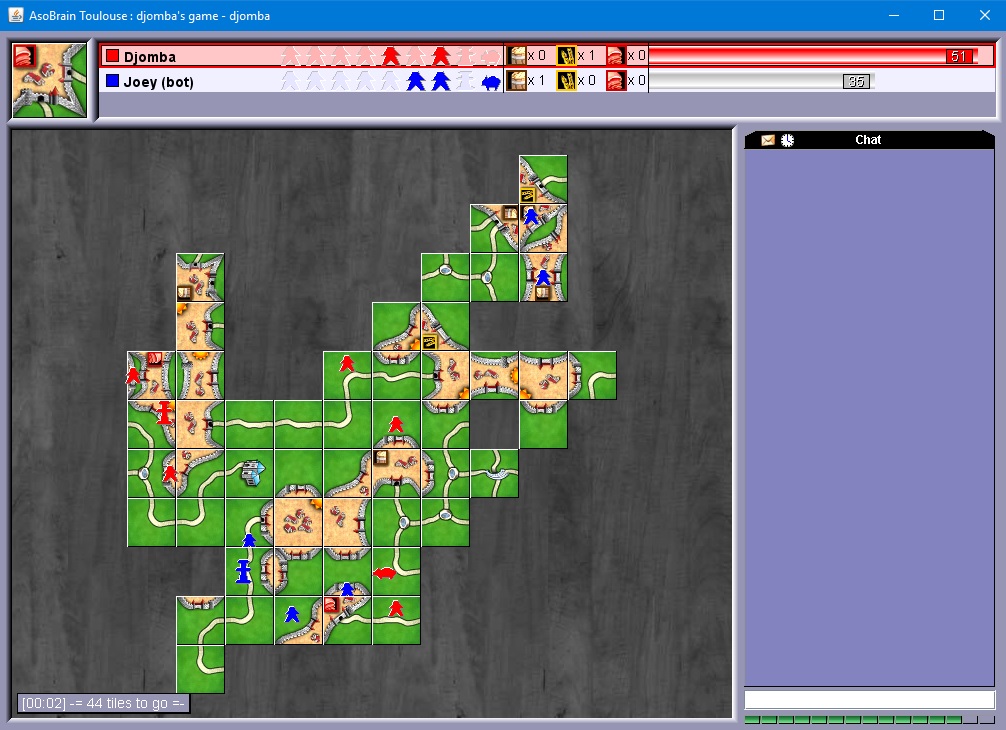 Verdict
Main positives:
free to play,
fast and simple gameplay,
bots are always available.
Main negatives:
the long registration waiting period,
visuals could be better,
not many people online,
only two expansions included.
Overall: 7/10
Conclusion
Toulouse on AsoBrain is a great place to learn and refine your Carcassonne skills. Personally, after a couple of games, I find it a bit dull. The lack of players and expansions makes me lose interest. But for some reason, the next day, I'm always back for more, even if it's just for quickie against bots.
This is all completely free, let's not forget. There is nothing stopping you from trying. Well, except for the 5-day waiting period.
If you have any comments on Toulouse, Carcassonne in general, or this article, please leave them below. Also, comment if you would like an invitation to AsoBrain to shorten that waiting time.
Vasilij